Erster Song, Artwork und Vorbestellungsmöglichkeiten jetzt online! Album erscheint am 29. Januar!

Die deutschen Thrasher EXUMER haben ihr viertes Album "The Raging Tides" für den 29. Januar über Metal Blade Records angekündigt!

Surft rüber zu metalblade.com/exumer und hört den Titelsong "The Raging Tides"! Clickt auf die Pre-order-Sektion, wo es die Platte als Digipak mit zwei Bonustracks gibt, die auch auf dem Vinyl enthalten sein werden!.

"The Raging Tides" markiert das vierte Studiowerk in der 30-jährigen Geschichte der Band und entstand unter der Ägide von Producer/Tontechniker Waldemar Soychta im Studio Waldstreet Sound in Dortmund. Herausgekommen ist ein bewusst brutaler Thrash-Angriff, womit die Band ihren Wurzeln absolut treu bleibt.

Konzeptionell und textlich schöpft Frontmann Mem V. Stein aus dem Leid des Menschen. Genaugenommen, so sagt, gehe es um Leid aufgrund von "Folter oder andere Quälereien aus politischen, religiösen oder persönlichen Gründen der Einzelnen oder Organisationen dahinter. Das Album heißt "The Raging Tides", weil dies das Auf und Ab der menschlichen Verzweiflung und Not weltweit widerspiegelt." Dieser Themenkreis ergibt sich offensichtlich nicht aus dem luftleeren Raum, sondern dem Alltag im Jahre 2015, was nicht zuletzt am modernen Nachrichtenbetrieb liegt, der rund um die Uhr berichtet, und als Inspiration halten geleakte Dokumente sowie die Kontroverse um Wikileaks beziehungsweise Personen wie Edward Snowden her. Stein fährt fort: "Die Texte wurden durch eine Vielzahl von Büchern und Artikeln angeregt, die ich gelesen habe, angefangen bei Ermittlungen zu den Methoden der CIA über Berichte von Amnesty International über Verhältnisse in Haftanstalten (Song: "Brand of Evil") bis zu Nigeria (extreme Misshandlungen - Song: "Welcome to Hellfire")." Weitere Einzelheiten braucht man nicht zu nennen, denn die Themen offenbaren sich dem Hörer, wenn er zwischen den Zeilen liest. Als zusätzliches Beispiel mag der Song "Shadow Walker" herhalten, der sich auf Menschen bezieht, die ein aussichtsreiches Dasein aufgeben, um sich radikalen Ideologien anzuschließen und sogar dafür zu sterben, dann aber von denjenigen verraten werden, die höhere politische oder eigene Ziele anstreben.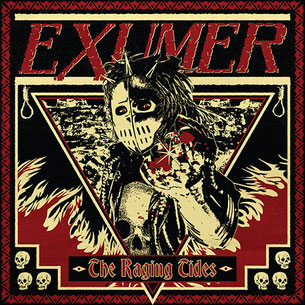 "The Raging Tides" Tracks:
01. The Raging Tides
02. Brand Of Evil
03. Catatonic
04. Sacred Defense
05. Welcome To Hellfire
06. Sinister Souls
07. Shadow Walker
08. There Will Always Be Blood
09. Dark Reflections
10. Death Factory
11. Forever My Queen (Pentagram cover, bonus track)
12. Hostage To Heaven (Grip Inc. cover, bonus track feat. Rob Dukes, Waldemar Sorychta, Markus Freiwald)

EXUMER werden ihre "Road Rage 2016"-Europatournee einen Tag vor der Veröffentlichung von "The Raging Tides" beginnen. Verbreitet diese Neuigkeiten wie die Pest!

EXUMER - European ROAD RAGE 2016
+ t.b.a.
28.01.2016 - E - Barcelona, Boveda
29.01.2016 - E - Zaragoza, Centro Civicio Universidad
30.01.2016 - E - Granada, El Tren
31.01.2016 - E - Madrid, Lemon
05.02.2016 - D - Pfarrkirchen, Club Bogaloo
06.02.2016 - A - Dornbirn, Schlachthaus
07.02.2016 - I - Mailand, Blue Rose Saloon
08.02.2016 - I - Rom, Traffic Live Club
10.02.2016 - D - Berlin, Comet
11.02.2016 - PL - Warschau, Progresja
12.02.2016 - PL - Lodz, LDK
13.06.2016 - D - Hameln, Sumpfblume
14.06.2016 - D - Lünen, Lükaz

http://www.exumer.de
https://www.facebook.com/exumerofficial
https://twitter.com/exumerofficial
---
EXUMER nehmen neues Album auf! Viertes album seit Bandgründung im Jahre 1986
Europatour bestätigt!

Die deutschen Thrash-Meister EXUMER werden ab dem 19. Oktober Dortmunder Aufnahmeräumlichkeiten in Beschlag nehmen, um den Nachfolger zu "Fire & Damnation" einzuspielen, ihr 2012er Album für Metal Blade Records.

Die Band tut sich einmal mehr mit Produzent Waldemar Sorychta (Sodom, Moonspell, Grip Inc., Tiamat etc.) zusammen, der sie auch bei ihrem Comeback 2011 betreute.

Sänger Mem V. Stein erklärt: "Wir nehmen uns Zeit für die Aufnahmen und Veröffentlichungen unserer Alben, weil wir stets möglichst spannende und hochwertige Musik abliefern wollen. Zum Glück lassen Metal Blade das in jeder Hinsicht zu, sodass wir die Platte machen können, an die wir glauben und die uns weiterbringen kann. Wieder mit Waldemar produzieren zu können, ist ein riesiges Plus, weil er schon für unser letztes Album ganze Arbeit geleistet hat. Wer unsere ersten beiden Scheiben aus den 1980ern und auch die letzte kennt, wird von der Neuen nicht enttäuscht sein, denn die bietet nichts weniger als typisch schnellen, aggressiven Thrash Metal."

EXUMERs neues Album wird Anfang 2016 bei Metal Blade Records erscheinen und markiert das vierte in der 30-jährigen Geschichte der Band. Titel, Artwork und Bonusmaterial für die zehn Tracks starke Platte geben wir bald bekannt. Das Album erscheint rechtzeitig zur EXUMER "Road Rage" Tour 2016! Die Daten bitte publizieren!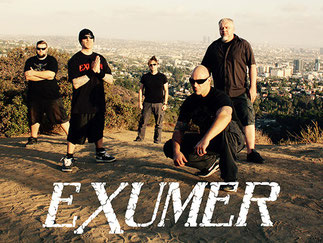 EXUMER
European ROAD RAGE 2016
+ t.b.a.
28.01.2016 - E - Barcelona, Boveda
29.01.2016 - E - Zaragoza, Centro Civicio Universidad
30.01.2016 - E - Granada, El Tren
31.01.2016 - E - Madrid, Lemon
05.02.2016 - D - Pfarrkirchen, Club Bogaloo
06.02.2016 - A - Dornbirn, Schlachthaus
07.02.2016 - I - Mailand, Blue Rose Saloon
08.02.2016 - I - Rom, Traffic Live Club
10.02.2016 - D - Berlin, Comet
11.02.2016 - PL - Warschau, Progresja
12.02.2016 - PL - Lodz, LDK
13.06.2016 - D - Hameln, Sumpfblume
14.06.2016 - D - Lünen, Lükaz

http://www.exumer.de
https://www.facebook.com/exumerofficial
https://twitter.com/exumerofficial