Die kalifornischen Extreme-Metal-Titanen SUICIDE SILENCE werden am 23. Oktober ihre Digital-EP »Sacred Words« über Nuclear Blast Entertainment veröffentlichen. Die EP wartet mit der Single 'Sacred Words' auf, sowie mit verschiedenen unveröffentlichten Tracks, inklusive dreier Live-Tracks vom Auftritt auf dem RockPart Festival in Ungarn vom 9. August.

"We are dropping a digital EP with some sick live tracks and much more," so Gitarrist Mark Heylum. "Get your fill of SUICIDE SILENCE with this release of »Sacred Words« dropping October 23! I said goddamn!"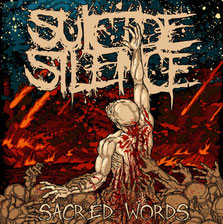 »Sacred Words« Digital EP track list:
01. Sacred Words 
02. Inherit The Crown (live) 
03. Cease To Exist (live) 
04. Sacred Words (live) 
05. Sacred Words (We Are Strong Remix) 
06. Sacred Words (instrumental) 
 
Das aktuelle SUICIDE SILENCE-Album, »You Can't Stop Me«, wurde von Steve Evetts (SEPULTURA, THE DILLINGER ESCAPE PLAN, WARBRINGER) produziert und gemischt. Es stellt das Debüt des neuen Sängers Eddie Hermida (ex-ALL SHALL PERISH) dar, und beinhaltet Gastauftritte von George "Corpsegrinder" Fisher (CANNIBAL CORPSE) und Greg Puciato (THE DILLINGER ESCAPE PLAN, KILLER BE KILLED). Das Artwork wurde von Tim Minarzik von Throne Media & Design erstellt.