Es ist endlich soweit, der Nachfolger des erfolgreichen letzten Psychopunch Albums "Smakk Valley" steht in den Startlöchern. Das neue Werk hört auf den schönen Namen "Sweet Baby Octane" und enthält 13 großartige neue Songs der Schweden. Auf CD und auch der LP ist jeweils ein exklusiver Track zu hören. Das komplette Album Tracklisting findet sich unten. VÖ Datum für "Sweet Baby Octane" ist der 20. November 2015. Eine Tour als Teil eines amtlichen Rock n Roll Packages wird in Kürze bekanntgegeben.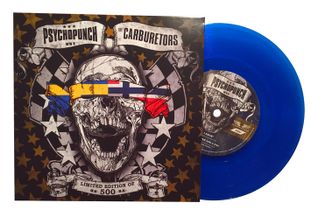 Neben gute Laune Party Krachern wie "On A Night Like This (Hell Yeah)" und mitreissenden Sing-a-longs wie "So High" gibt es auch Neues auf dem kommenden Album zu entdecken. Zum Beispiel das erste Duett der Bandgeschichte mit dem Titel "Forever And A Day", gesungen von Psychopunchs JM und Clare Von Stitch. Hierzu wird bald ein Video veröffentlicht. Hier schonmal das making of damit ihr euch selbst einen Eindruck verschaffen könnt: https://youtu.be/vn3a1AHNOEI

ACHTUNG: Für die deutschen Fans der Band gibt es noch vor VÖ des Albums ein ganz besonderes Stück Vinyl - zur Plattenladenwoche (19. bis 25. Oktober 2015) erscheint bereits eine Split 7inch Vinyl Single in einer Auflage von nur 500 Stk. - ein guter Grund also mal wieder den Plattenladen um die Ecke zu besuchen!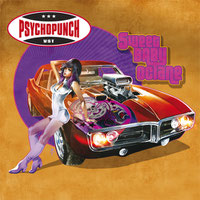 Split Single Tracklist
Side A
The Carburetors – Boogie My Life Away 2:49
(Coverversion eines Backstreet Girls Songs, exklusiv nur hier erhältlich)
The Carburetors – Shot Full Of Noise 3:42
(Ein Song vom kommenden Album "Laughing In The Face Of Death")
Side B
Psychopunch – I Know 1:56 (Exklusiv nur auf dieser Single erhältlich)
Psychopunch – Forever And A Day 3:45 (Ein Song vom kommenden Album "Sweet Baby Octane")
Tracklisting CD

01. Intro
02. I´ve been around
03. On a night like this (Hell Yeah)
04. Forever and a day
05. Turn up the radio
06. When you´re out of town
07. Drinking alone
08. So high
09. Masquerade
10. What did I say
11. Time is on our side
12. Punkrocker
13. The new alive (CD only Bonus)
14. Showtime´s over
15. Outro
LP Tracklist
Gatefold, ltd Edition 500, rot transparentes 180gr. Vinyl, doppelseitiges Poster, + 1 Vinyl only Bonustrack, CD Beilage
Side A:

01. Intro
02. I´ve been around
03. On a night like this (Hell Yeah)
04. Forever and a day
05. Turn up the radio
06. When you´re out of town
07. Drinking alone
Side B:
01. So high
02. Masquerade
03. What did I say
04. I can see it in your eyes (Vinyl only Bonus)
05. Time is on our side
06. Punkrocker
07. Showtime´s over
08. Outro