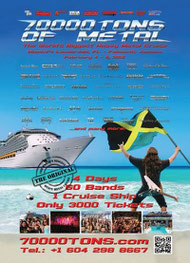 In nur 4 Monaten legt die 70000 Tons of Metal Cruise wieder ab!
Die Metalfraktion darf sich dabei über 10 neue Bestätigungen freuen!
Mit einem breiten Spektrum von Folk bis hin zu Brutal Death Metal bieten Bloodbath, Jag Panzer, Katatonia, Krisiun, Paradise Lost, Squealer, Stratovarius, Subway To Sally, Vader und Vallenfyre den Besuchern wieder eine vielseitige Mischung, bei der für jeden Metalhead etwas dabei ist.
Damit sind 40 der 60 Bands bereits bestätigt. Jede Band wird dabei sowohl auf der Hin- als auch Rückfahrt auf einen der 4 Bühnen an Bord auftreten.
Auf der Artist-Site kann das komplette Line-Up angesehen werden.
Tickets sind noch verfügbar und können über 70000Tons.com gebucht werden. Die größte Metal-Kreuzfahrt der Welt legt am 4. Februar 2016 in Fort Lauderdale ab und kehrt nach 4 Tagen auf See und in Jamaika zurück.