Mit Vollgas auf der eigenen Route 666
Na!?! Auch die Schnauze gestrichen voll von dem ganzen geschmacklosen Massenfutter im harten Bereich?
Dann mal bitte die Gehörkanäle ganz weit aufmachen: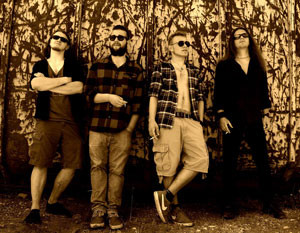 Am heutigen 25. September veröffentlichen diese vier Kerosin-Seelen ihr Debütalbum "Thrash'N'Roll", welches auch als effizienter Adrenalin-Booster genutzt werden kann.
Zuvor wurde der Drehzahlbegrenzer am 4. September noch mit der oberlässigen Single-Auskopplung "King Of The Lonesome Riders" provoziert.
Denn der eindringlich wild röhrende Powersound dieses bayerischen Vierzylinders taktet mit verdammt spritziger Individualität!
Schließlich wird das Ganze von einem scharfen Zündgemisch aus purer Exklusivität angetrieben.
Hell-Yeah, DEATHLESS CREATION drehen einen richtig fetten THRASH'N'ROLL-Motor auf!
Der hochgradig eigenständige Output dieser ansteckend spielfreudigen Günzburger Riff-Maniacs lässt den Ideen-Katalysator dermaßen aufglühen, dass es nicht selten musikalisch erleuchtend wirkt.
Ist ja auch wirklich kein Wunder, wenn das Gemisch so dermaßen gut funkt:
Im stets randvollen Tank der Jungs brodeln leckere Einflüsse wie Pantera, Machine Head und Metallica mit literweise weiteren explosiven Beigaben.
(Markus Eck)
Musik & Infos: http://www.timezone-records.com/kuenstler/details/deathless-creation

Band: DEATHLESS CREATION (DE)
Release: "Thrash'N'Roll" (Album; 25. Sept. 2015)
Genre: Thrash'n'Roll
Label: Timezone
DEATHLESS CREATION online: