Dänemarks tödlichste Abrissbirne HATESPHERE wird nächsten Monat ein neues Album veröffentlichen!

Sänger Esse über "New Hell": "'New Hell' ist der nächste logische Schritt für HateSphere. Wie schon auf den vorherigen Veröffentlichungen hört man, dass sich der Sound, das Songwriting und die Kompositionen weiterentwickelt haben. Unsere loyalen Fans werden 'New Hell' höchstwahrscheinlich abwechslungsreicher finden, da wir den Fokus auf variablen Gitarrensound, Riffs mit Wiedererkennungswert und Refrains zum Mitsingen gelegt haben. Wir haben uns also alle Mühe gegeben.
Zusätzlich wird es das Album auch als limitiertes Digipak geben, auf dem es eine seltene Live-Aufnahme, sowie - was uns besonders am Herzen liegt - einen dynamischen Mix des Titeltracks zu hören gibt. So klang Musik, ehe der Wettbewerb um den lautesten Sound gestartet wurde und der Sound anfing, darunter zu leiden. Also lehnt euch zurück und genießt es!"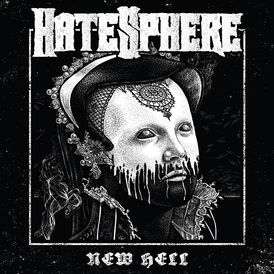 Die Tracklist des Albums sieht wie folgt aus:

01. The Executioner
02. Lines Crossed Lives Lost
03. Head On A Spike
04. The Longest Haul
05. Your Sad Existence
06. On The Shores Of Hell
07. New Hell
08. Master Of Betrayal
09. Human Cesspool
10. The Grey Mass
Digipak Bonustracks
11. Resurrect With A Vengeance (Live)
12. New Hell (Dynamic Mix)
HATESPHERE haben kürzlich einen Album-Teaser veröffentlicht, der hier verfügbar ist: https://youtu.be/Re5icZN5SAg

"New Hell" wurde von Tue Madsen produziert, gemischt und gemastert. Das fantastische, ziemlich düstere Artwork stammt von Niclas Mortensen (Amon Amarth, As I Lay Dying, Protest The Hero, Bring Me The Horizon, Whitechapel).
HATESPHEREs neues Album "New Hell" wird am 20. November 2015 bei Massacre Records erscheinen!
HATESPHERE Live
16.10.2015 - S - Göteborg, Sticky Fingers
17.10.2015 - NO - Skien, Parkbiografen (1001Watt Festival)
The Tour Majestic 2015 w/ Soilwork, HATESPHERE, T.A.N.K. + Guests
27.11.2015 - S - Malmö, KB
28.11.2015 - D - Herford, X-Herford
29.11.2015 - CH - Lyss, Kulturfabrik
30.11.2015 - CH - Sion, Le Port Franc
01.12.2015 - I - Brescia, Circolo Colony
02.12.2015 - D - München, Backstage
03.12.2015 - D - Wiesbaden, Schlachthof
04.12.2015 - D - Leipzig, Hellraiser
05.12.2015 - CZ - Plzeň, Winter Basinfirefest
06.12.2015 - D - Berlin, Bi Nuu
07.12.2015 - D - Hamburg, Logo
08.12.2015 - D - Köln, Luxor
10.12.2015 - NL - Tilburg, 013
11.12.2015 - B - Vooselaar, Biebob **
12.12.2015 - F - Metz, Les Trinitaires **
13.12.2015 - F - Dunkerque, Les 4Ecluses **
14.12.2015 - F - Paris, Le Trabendo
15.12.2015 - F - Rennes, Antipode MJC **
16.12.2015 - F - Cenon (Bordeaux), Le Rocher De Palmer **
17.12.2015 - F - Blois, Le Chato'do **
18.12.2015 - F - Limoges, CC John Lennon
19.12.2015 - F - Villeurbanne (Lyon), Le CCO

** without T.A.N.K.
Links
http://www.facebook.com/hatesphere666

http://www.twitter.com/hatesphereband

http://www.youtube.com/hatesphereofficial

---
HATESPHERE beenden Albumaufnahmen, enthüllen erste Details
Anfang August haben sich HATESPHERE ins Antfarm Studio von Tue Madsen begeben, um ihr 9. Studioalbum aufzunehmen. Mittlerweile ist das Album im Kasten!
 
Esse äußerte sich kurz vor Beginn der Aufnahmen wie folgt zum Album: "Ungefähr 40 Minuten HateSphere, wie man uns kennt und liebt. Jedoch haben wir auch einige, kleine Überraschungen in petto! Wer hätte zum Beispiel gedacht, dass es mal Blast Beats auf einem HateSphere Album auf die Ohren geben würde?"
 
Die Aufnahmen wurden in Form eines Studiotagebuchs auf Metalized.dk und HornsUp.fr dokumentiert.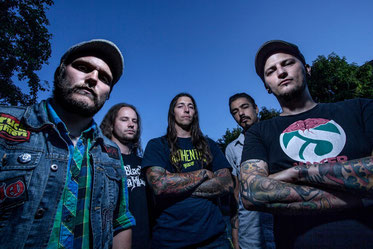 Die Jungs scheinen eine gute Zeit im Studio gehabt zu haben, was unter anderem auch an der großartigen Atmosphäre und der Zusammenarbeit mit Tue in den Antfarm Studios lag.
 
"New Hell" wurde von Tue Madsen produziert, gemischt und gemastert und wird ebenfalls als limitiertes Digipak mit zwei exklusiven Bonustracks erhältlich sein.
 
Das fantastische, ziemlich düstere Artwork stammt von Niclas Mortensen (Amon Amarth, As I Lay Dying, Protest The Hero, Bring Me The Horizon, Whitechapel).
 
Im November und Dezember sind HATESPHERE zusammen mit Soilwork auf Europatour - lasst euch das nicht entgehen!
 
HATESPHEREs neues Album "New Hell" wird am 20. November 2015 bei Massacre Records erscheinen!

HATESPHERE Live
16.10.2015 - S - Göteborg, Sticky Fingers
17.10.2015 - NO - Skien, Parkbiografen (1001Watt Festival) 
 
Soilwork, HATESPHERE + Guests

27.11.2015 - S - Malmö, KB
28.11.2015 - D - Herford, X-Herford
29.11.2015 - CH - Lyss, Kulturfabrik
30.11.2015 - CH - Sion, Le Port Franc
01.12.2015 - I - Brescia, Circolo Colony
02.12.2015 - D - München, Backstage
03.12.2015 - D - Wiesbaden, Schlachthof
04.12.2015 - D - Leipzig, Hellraiser
05.12.2015 - CZ - Plzeň, Winter Basinfirefest
06.12.2015 - D - Berlin, Bi Nuu
07.12.2015 - D - Hamburg, Logo
08.12.2015 - D - Köln, Luxor
10.12.2015 - NL - Tilburg, 013
11.12.2015 - B - Vooselaar, Biebob
12.12.2015 - F - Metz, Les Trinitaires
13.12.2015 - F - Dunkerque, Les 4Ecluses
14.12.2015 - F - Paris, Le Trabendo
15.12.2015 - F - Rennes, Antipode MJC
16.12.2015 - F - Cenon (Bordeaux), Le Rocher De Palmer
17.12.2015 - F - Blois, Le Chato'do
18.12.2015 - F - Limoges, CC John Lennon
19.12.2015 - F - Villeurbanne (Lyon), Le CCO

http://www.facebook.com/hatesphere666

http://www.twitter.com/hatesphereband

http://www.youtube.com/hatesphereofficial