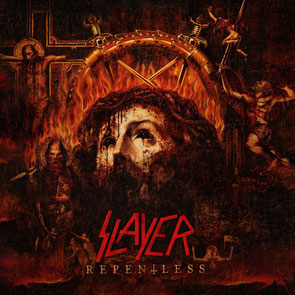 VÖ: 11.09.2015

Label: Nuclear Blast

Format: CD

Tracklist:

01. Delusions Of Saviour (1:55)
02. Repentless (3:19)
03. Take Control (3:13)
04. Vices (3:32)
05. Cast The First Stone (3:43)
06. When The Stillness Comes (4:20)
07. Chasing Death (3:44)
08. Implode (3:49)
09. Piano Wire (2:48)
10. Atrocity Vendor (2:54)
11. You Against You (4:20)
12. Pride In Prejudice (4:13)

Das neue und heiß ersehnte elfte Studioalbum erblick in Kürze das Licht der Welt. Nach nun bereits sechs Jahren Studio-Abstinenz veröffentlichen Slayer mit "Repentless" ein neues Thrash-Meisterwerk, welches düster und aggressiv aus den Lautsprechern schlägt. Wer auf die alten Klassiker wie "Skeletons Of Society", "Angel Of Death" und "Reign In Blood" steht, der wird von "Repentless" ebenso begeistert sein. Nachdem Gary Holt eigentlich nur als Ersatz für Jeff Hanneman für die Tour einsprang, entschied man sich nun im Hause Slayer, dessen Qualitäten weiter für sich zu nutzen. Ebenso kehrte Drummer Paul Bostaph wieder in seinen alten Stall zurück und zeigte sich hoch engagiert.

Beginnt das Album mit einem verhältnismäßig schwachen Intro, so schlägt der folgende Titeltrack "Repentless" sofort ein wie eine Bombe. So verhält es sich auch mit "Take Control", "Vices", oder auch "Cast The First Stone". "When The Stillness Comes" beginnt wieder mit langsameren und leisen Tönen, jedoch bringt Frontmann Tom Araya auch hier wieder schnell die Hölle zum brodeln. "Chasing Death" prügelt wieder von Beginn an alles um was nicht niet- und nagelfest ist und auch "Implode". Ebenso verhält es sich auch mit den restlichen Songs der Scheibe. Jedes für sich genommen bringt die volle Power und Energie, die die Fans so an ihrer Band lieben. Thrash-Geknüppel aller erster Güte!

Aufgenommen wurde "Repentless" in den Henson Studios in Los Angeles. Produziert wurde das Album erstmals von Terry Date, den sich die Band aussuchte, nachdem sie unter dem vorherigen Label alle Arbeiten mit Rick Rubin durchführten. Tom sagt zur Arbeit mit Date: "Er hatte all diese großartigen Platten gemacht - SOUNDGARDEN, PANTERA - und als Sänger brauche ich jemanden, den ich respektiere, der mir sagen kann, ob er es mag oder nicht anstatt mir zu sagen, wie ich etwas zu erledigen habe, das ich seit 30 Jahren mache. Er würde mich betreuen. Deshalb habe ich die Arbeit mit ihm sehr genossen, weil er so cool war. Ich betrachte ihn sicherlich als einen Freund." Kerry fügt hinzu: "Es war so gewöhnlich, wie es nur sein konnte. Die merkwürdigste Sache für mich war Jeffs Ausstrahlung… nicht dazusein. Als wir in der Vergangenheit aufgenommen haben, egal, ob er spielte oder nicht, ihn dazuhaben und seine Meinung zu hören und so weiter: Das habe ich vermisst. Dass Jeff nicht dabei war, war die merkwürdigste Tatsache." Das Artwork wurde zusammen mit Araya und King vom Brasilianer Marcelo Vasco erschaffen.


Mit knapp 42 Minuten ist "Repentless" ein recht kurzer Langspieler, aber trotzdem hörenswert für jeden Fan der härteren Gitarrenklänge. Neben Iron Maiden, Anthrax, Megadeth und Tool, wurde das zu erwartende neue Album im Januar 2015 bereits als "30 Most Anticipated Rock + Metal Albums of 2015" von Loudwire genannt. So soll es sein!

Greift hier beherzt zu - es loht sich!

(Sarah Jacob)