THE ARCANE ORDER werden Ende des Monats ihr neues Album "Cult Of None" veröffentlichen!
 
Die Band über das Album: "Die Songs auf unserem 3. Album sind größtenteils melodisch und episch, aber auch düster, dynamisch und wahrscheinlich auch abwechslungsreicher als die Songs auf unseren beiden vorherigen Alben. Wir haben versucht schnelle und langsame Songs zu schreiben, uns dabei jedoch treu zu bleiben und uns - im Hinblick auf 'In The Wake Of Collisions' - musikalisch weiter zu entwickeln."
 
"Cult Of None" wurde von Jacob Hansen in den Hansen Studios produziert, gemischt und gemastert. Das Artwork stammt von Lars Christensen, seines Zeichens Gitarrist bei Raunchy.
 
Den neuen Song "Ahab" kann man sich bereits hier anhören: https://youtu.be/PtJC6LD4Fyc
 
THE ARCANE ORDER haben nun auch eine Einführung ins Album bzw. einen Einblick in alle Songs des Albums veröffentlicht: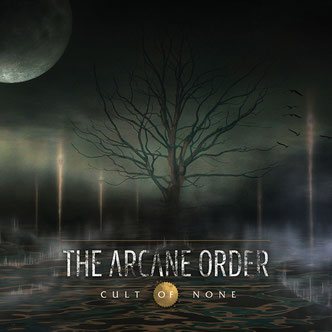 01. REVIVER
Der längste Track des Albums und ein gutes Beispiel dafür, wie wir uns seit dem letzten Album weiter entwickelt haben. Es ist größtenteils ein Mid-tempo Song und ein durchaus epischer Beginn fürs Album. Es ist ein großartiger Song mit starken Riffs und starken Elementen. Ebenfalls ein prächtiger Setlist-Opener für kommende Liveshows.
02. EXO REIGN
Zusammen mit "Waves Of Trance" der schnellste Song des Albums. Es hat den Trademark-Sound und die Riffs, die man schon von "In The Wake Of Collisions" kennt und er hat Ähnlichkeit mit Songs wie "Waves Of Trance" "The Serpent Tower" und "Death Is Imminent".
03. AHAB
Der Song ist basiert auf Kapitän Ahab aus dem Buch "Moby Dick". Ein Mid-tempo Song mit herrlichen Blasts und einem melodiösen und eingängigen Refrain. Ein großartiger Song, der melodische Parts mit schnellen und groovigen Elementen verbindet. Kasper hat fantastische, tiefe Vocals abgeliefert und es ist auch der erste Song, der vom Album veröffentlicht wurde.
04. VOID MAKER
Hier haben wir quasi Neuland betreten. Wir wollten einen langsamen Song auf dem Album haben, damit etwas Abwechslung rein kommt. Es ist also ein langsamer Song mit unzähligen, schnellen Double Kick Drums. Ein einfacher, aber dennoch starker Song mit wenigen Riffs und einem fast schon trance-artigen C-Part. Abermals ein Song mit tollen Vocals von Kasper und einem dominanten Bass.
05. WAVES OF TRANCE
Dieser Song stammt ursprünglich von unserer 2014er Promo EP und hieß dort "The Constant Throne". Wir haben dem Song jedoch teilweise neue Lyrics und Vocals verpasst, damit er noch mehr reinknallt. Zusammen mit "Exo Reign" der schnellste Song auf dem Album.
06. FAITH EATER
Ein epischer und starker Song. Das lange, epische Intermezzo verwandelt sich nach ca. 02:30 Minuten in die Strophe und dann geht's erst richtig los. Ein brutaler Song mit vielen Riffs, die dem Lied mehr Komplexität verleihen und ihn so interessanter machen.
07. HESPERIAN
Zusammen mit "Void Maker" der langsamste und drückendste Song des Albums. Er beginnt mit einem Behemoth-esken Riff und der passenden Atmosphäre. Der Bass ist äußerst dominant und hebt die Riffs hervor. Es gibt aber auch klare Gitarrenparts, die dem Song eine gewisse "Left Hand Path"-Atmosphäre verleihen.
08. SUN GRAVE
Besser bekannt als "Aphelion" von der 2014er Promo EP. Ein großartiger Song mit vielen guten Riffs und einer klasse Atmosphäre. Neue Lyrics und Vocals lassen den Song noch eingängiger werden.
THE ARCANE ORDERs neues Album "Cult Of None" wird am 25. September 2015 bei Massacre Records erscheinen.
http://www.facebook.com/thearcaneorder

http://www.youtube.com/user/thearcaneorderdk