REBELLION werden ihr historisches Konzeptalbum über die Geschichte der Sachsen namens "Wyrd Bið Ful Aræd – The History Of The Saxons" Ende diesen Monats veröffentlichen.
 
Nun wurden weitere Details veröfffentlicht.
 
Bassist Tomi erklärte: "Der Titel des Albums ist dem altenglischen Gedicht 'The Wanderer' entnommen und bedeutet übersetzt so viel wie 'du kannst deinem Schicksal nicht entkommen'. Die meisten Songs auf dem Album basieren auf soliden, historischen Fakten: So handelt der erste Song des Albums, 'Irminsul', zum Beispiel von der sozialen und tribalistischen Bedeutung des jährlich stattfindenden Althing für die Sachsen."
 
Ein ausführlicher Kommentar zum historischen Hintergrund des Albums findet sich im Booklet des Albums.
 
Die komplette Tracklist von"Wyrd Bið Ful Aræd – The History Of The Saxons" sieht wie folgt aus: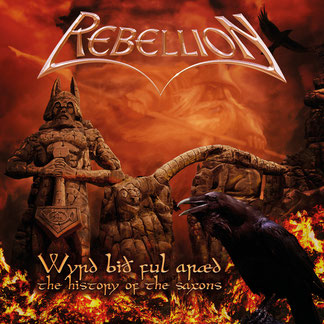 01. Irminsul
02. God Of Mercy
03. Sahsnotas
04. Take To The Sea
05. Hengist
06. Runes Of Victory
07. Slave Religion
08. The Fall Of Irminsul
09. Hail Donar
10. Blood Court
11. The Killing Goes On
12. Wyrd Bið Ful Aræd
Hier kann man sich den neuen Song "Hengist" in voller Länge anhören: https://youtu.be/31305EYhMyg

Das Album wurde von Oliver Geibig und Tomi Göttlich produziert und von Oliver Geibig bei Tone Town Music aufgenommen, gemischt und gemastert. Das Artwork stammt von Hanspeter Ludwig.
REBELLIONs neues Album "Wyrd Bið Ful Aræd – The History Of The Saxons" wird am 25. September 2015 bei Massacre Records erscheinen.
REBELLION Live
19.03.2016 - F - Colmar, Le Grillen (Skull Crush Fest)
http://www.facebook.com/rebellionmetal

http://www.twitter.com/RebellionMetal

http://www.youtube.com/user/RebellionMetal