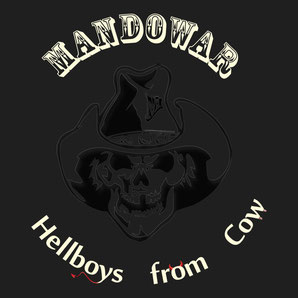 VÖ: 12.06.2015

Label: Singalongsongs

Format: CD

Tracklist:
01. Alexander Strack
02. Engel
03. (Ghost) Riders In The Sky
04. Hellboys From Cow
05. Holy Diver
06. Kashmir
07. Master Of Puppets
08. Radar Love
09. Wish You Were Here

Mandowar bringen ihr neues Werk auf den Markt und rocken Klassiker mit Hut und Lederjacke.
Immer wieder gibt es Versuche von Bands Klassiker in unterschiedlichen Musikgenres zu interpretieren. Doch nur selten gelingen diese Stil-Crossover auch. Zum Glück gibt es Schmankerl die aus der breiten Masse hervortreten. Hier in diesem Fall schreiben wir von dem Trio Mandowar. Eine mit Mandoline, Gitarre und Ukulelen-Bass bewaffnete nach eigenen Angaben "Country Folk Metal Band" aus dem mystischen Untiefen Hessens. Nun kam am 12. Juni 2015 ihr neuesten Werk "Hellboys from Cow" auf den Markt. Grund genug sich das gute Stück der selbsternannten "Gods of Folk" mal anzuhören.
Der erste Song trägt den Namen "Alexander Strack" - aha. Was will mir das sagen? Schon die ersten Töne zeigen eine schöne Hommage an "Thunderstruck" von AC/DC in feinster Country Rock-Manier, die einem das Lächeln ins Gesicht zaubert. Und das ist nicht alles. In der zweiten Strophe direkt noch ein schönes Cover der gleichen Band: "You Shook Me All Night Long". Ein Medley quasi vom Feinsten zu Ehren der australischen Rocker. Was jedoch viel mehr das Herz berührt ist die Leichtigkeit und gleichzeitige Leidenschaft mit der die Crew um Sänger Nils Hofmann die Lieder in ihrer eigenen Akkustik-Version zum Besten geben.
Weiter geht's mit einem Cover zu Rammsteins "Engel". Prägnant für dieses musikalische Schmuckstück ist das Bespielen der Querflöte und das dazu sehr zu empfehlende Video. In diesem springen die Musiker in Robin-Hood-Outfits singend und tanzend durch die Wälder oder sitzen auf Schaukeln in Engelskostümchen oder werden - verständlicherweise - einfach gejagt. Zu sehen ist das Video auf der Homepage des Trios www.mandowar.de

Ein weiterer Song, welcher einer besonderen Erwähnung wert ist, ist das namensgebende Stück "Hellboys from Cow". Was auch immer die drei Cowboys geritten hat, dieses Lied aufzunehmen (ich tippe auf viel Freizeit im hessischen Wetzlar), es macht Laune - auf eine andere Art und Weise als das naheliegende "Cowboys from Hell" von Pantera. Es ist kurzlebig, macht gute Laune und der Text ist einfach grandios: "When we had lunch with the rats and we jam with the cats".
Neben einem melancholischen Cover zu Dios "Holy Diver" schafft es die Truppe Metallicas "Master of Puppets" in einer wunderbaren Akustikversion zu covern, die selbst mit wenigen Instrumenten und ohne Riesentechnikaufwand die Grandiosität dieses Liedes aufzeigt.
Die insgesamt neun Songs auf "Hellboys from Cow" sind ein Muss für Musikliebhaber. Metal und Rock in einer Countryversion aufzuzeigen, können halt nur wenige. Mandowar gehören definitiv zu den Könnern des "Stil-Crossovers" und zeigen, welche begnadeten Musiker sie sind. Zudem macht es einfach gute Laune das Album zu hören, die rund um die tiefe Stimme von Hofmann einfach Spaß an der Musik haben, die sie so spielen.
(Antje Ritter)