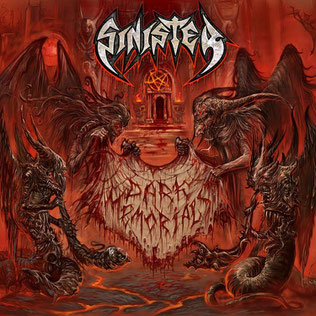 VÖ: 26.06.2015

Label: Massacre Records

Format: CD

Tracklist:

01. The Malicious (Intro)
02. Beneath The Remains (Sepultura Cover)
03. Exhume To Consume (Carcass Cover)
04. Unleashed Upon Mankind (Bolt Thrower Cover)
05. Master Killer (Merauder Cover)
06. Beyond The Unholy Grave (Death Cover)
07. Under The Guillotine (Kreator Cover)
08. Ridden With Disease (Autopsy Cover)
09. Necrophiliac (Slayer Cover) - Slayer
10. Radiation Sickness (Repulsion Cover)
11. Blasphemies Of The Flesh (Carnage Cover)
12. Spiritual Immolation (re-recorded) (Bonus)
13. Compulsory Resignation (re-recorded) (Bonus)

25 Jahre SINISTER - was für ein Grund zum Feiern! Trotz der kurzzeitigen Auflösung der Band 2005, können die Niederländer nun dieses Jubiläum zelebrieren. Dies tun sie selbstverständlich auch und bringen dazu eine Art Hommage an diverse Kollegen der Szene auf dem Markt: Dark Memorials.

Wie man aus der oben stehenden Tracklist ersehen kann, wurden hier Metal-Helden wie Sepultura, Carcass, Bolt Thrower, Death, Kreator und auch Slayer in der Sinister-eigenen Art und Weise wieder gegeben.

Die Band rund um Vocalist Adrie Kloosterwaard verleiht den Songs ihren ganz eigenen Touch und haucht ihnen dadurch wieder neues Leben ein.

Neben allen Coverversionen gibt es auch zwei neu aufgelegte Tracks in Form von "Spiritual Immolation" und "Compulsory Resignation". Diese wurden mit ex-Gitarrist Ron van de Polder neu eingespielt und stammen ursprünglich vom Debütalbum "Cross The Styx".

Auf der Bonus-DVD die im limitierten Digipack erhältlich ist, gibt es auch noch "Australian Darkness - a road movie from the Australian Tour 2014" zu begucken.

Insgesamt ein echt rundes Werk, das sich hören lassen kann! Wer Bock auf geilen Death und Thrash Metal par excellence hat, der sollte nicht zögern, sich dieses Meisterwerk anzuschaffen! Produziert hat hier Jörg Uken (God Dethroned, Dew-Scented, Defloration u.a.) in den Soundlodge Studios. Am Coverartwork durfte sich Alex Tartsus (Afterburner, Simargl, Mist Of Misery) austoben.

(Sarah Jacob)