25 Jahre Gamma Ray, 25 Jahre Heavy Metal aus Hamburg - die Band um Sänger/Gitarrist Kai Hansen hat lange bereits die Welt im Sturm erobert. Tourneen und ausverkaufte Konzerte in den USA, Kanada, Südamerika, Asien und ganz Europa, dazu Teilnahmen an den berühmtesten Festivals der Erde, das alles stellt vor allem eines nachhaltig unter Beweis: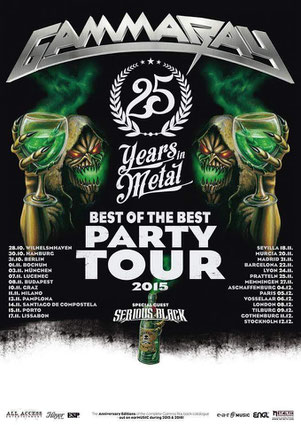 der Bühne sind Gamma Ray eine Macht! Grundlagen ihrer furiosen Konzerte sind mehr als zwei Dutzend Tonträger, darunter elf Studioalben, mehrere Live-Scheiben, DVDs, EPs und Singles, mit denen die Gruppe regelmäßig hohe Charts-Notierungen verzeichnen konnte. Kein Wunder also, dass die stetig größer werdende Fangemeinde auch in diesem Herbst, wenn Gamma Ray wieder auf Tournee gehen, zweifelsohne in Scharen strömen wird. Was also Mitte Oktober 2015 beginnt und sich mindestens bis Mitte Dezember erstrecken wird, ist nichts weniger als Hamburg Metal in Perfektion - präsentiert von einer der vitalsten und erfolgreichsten Bands dieser Szene. Man sollte sich die Chance nicht entgehen lassen!
Besonderes Schmankerl der 2015er Konzertreihe: Angesichts ihres Jubiläums wird der komplette Back-Katalog der Gruppe wiederveröffentlicht, von Heading For Tomorrow (1990) bis To The Metal (2010). Sämtliche Werke kommen als hochwertige Digipaks inklusive neu gestalteter Cover-Artworks auf den Markt und werden durch rares, teilweise unveröffentlichtes Audiomaterial veredelt. Gamma Ray feiern ihren Geburtstag also in einem würdigen Rahmen, und alle können mitfeiern!

Special guest: Serious Black
Eine neue Band - 6 Mitglieder, 6 Freunde - alle mit großer Erfahung und Wissen aus vielen Jahren im Geschäft und als Teil einer sehr erfolgreichen Melodic Metal Band: das sind SERIOUS BLACK! Das Lineup besteht aus Roland Grapow (Masterplan, ex-Helloween), Thomen Stauch (ex-Blind Guardian), Mario Lochert (ex-Visions Of Atlantis), Dominik Sebastian (Edenbridge), Jan Vacik (ex-Dreamscape) und (last but not least) der goldenen Stimme von Urban Breed (ex-Tad Morose). SERIOUS BLACK unterscheiden sich zu all den so genannten "all star" bands, denn, sie sind tatsächlich eine richtige Band. Eine Band, die ihr herausragendes Debütalbum "As Daylight Breaks" zusammen aufgenommen hat und jedes einzelne Mitglied in der Entstehung, das Songwritung und die Aufnahmen einbezogen wurde. Eine Band, die es nicht erwarten kann, auf die Bühnen der Welt zu kommen. "As Daylight Breaks" ist echt Teamarbeit, ein Melodic Metal Juwel, welches durch sein herausragendes Songwriting und die Musikalität überzeugt. Fans, die klassischen Melodic Metal Ganz im Sinne von Avantasia oder Masterplan mögen, haben eine neue Lieblingsband gefunden: SERIOUS BLACK!

GAMMA RAY - Best Of The Best - Party Tour 2015:
28.10.2015 - D - Wilhelsmhaven, Pumpwerk
30.10.2015 - D - Hamburg, Markthalle
31.10.2015 - D - Berlin, C-Club
01.11.2015 - D - Bochum, Zeche
03.11.2015 - D - München, Backstage Werk
07.11.2015 - SLO - Lucenec, Sports Hall
08.11.2015 - HU - Budapest, Club 202
10.11.2015 - A - Graz, Explosiv
11.11.2015 - I - Milano, Special guest to Scorpions - Mediolanum Forum
13.11.2015 - D - Pamplona, Totem
14.11.2015 - D - Santiago de Compostela, Capitol
15.11.2015 - P - Porto, Hard Club
17.11.2015 - P - Lisboa, Paradis Garaje
18.11.2015 - D - Sevilla, Custom
20.11.2015 - D - Murcia, Gamma
21.11.2015 - D - Madrid, San Miguel
22.11.2015 - D - Barcelona, Razz 1
24.11.2015 - F - Lyon, Ninkasi Kao
25.11.2015 - CH - Pratteln, Z7
27.11.2015 - D - Memmingen, Kaminwerk
04.12.2015 - D - Aschaffenburg, Colos-Saal
05.12.2015 - F - Paris, Trabendo
06.12.2015 - B - Vosselaar, Biebob
08.12.2015 - UK - London, Islington
09.12.2015 - NL - Tilburg, 013
11.12.2015 - S - Göteborg, Musikens Hus
12.12.2015 - S - Stockholm, Klubben