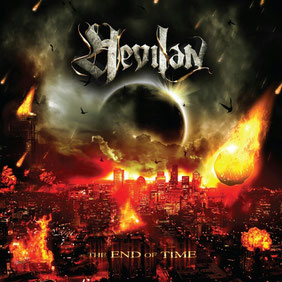 VÖ: 26.06.2015
Label: Massacre Records
Format: CD
Tracklist:
01. Regenesis
02. Shades Of War
03. Minus' Call
04. End Of Time
05. Desire Of Destruction
06. Sanctum Imperium
07. Dark Throne Of Babylon
08. Son Of Messiah
09. Loneliness
10. Shades Of War (Feat. Warrel Dane)
11. Quest Of Illusion 2014
Muss immer alles härter, schneller, krasser und wilder sein? Nein! Und genau das beweisen die Brasilianer von Hevilan. Auf ihrem Debütalbum bekommt man eine Mischung aus gutem Heavy und Power Metal geboten.
Obwohl die Band schon 2005 von Gitarrist Johnny Moraes gegründet wurde, der 2006 dann mit der 3-Track-EP "Blinded Faith" erstmals das Interesse der Welt auf die Band zog, erschien erst im Jahre 2013 das Debütalbum "The End Of Time" in Brasilien. Dort von den Medien hoch gelobt, wurde das Album zum "Power Metal Album 2013" gekürt. Trotzdem sollte es dann nochmal zwei Jahre dauern, bis die Band auf dem europäischen Markt das Interesse der Musikszene auf sich ziehen konnte.
Schon vom ersten Track an wird einem die geballte Power der Musik entgegen gebracht. Solide Gitarrenparts, gepaart mit dem merklich erfahrenen Primal Fear-Drummer Aquiles Priester - der hier als Gastmusiker fungiert - sowie den Vocals von Sänger Alex Pasqualle, der mit seiner kräftigen Stimme den Stücken den nötigen Nachdruck verleiht und die Emotionen und Botschaften gut an den Hörer rüber bringen kann.
Zudem gibt es hier auch noch Vocalparts von Vitor Rodrigues (Torture Squad, Voodoo Priest) bei den Songs "Shades Of War", "Desire Of Destruction" und "Sanctum Imperium" und dem ebenfalls gastierenden Sänger Warrel Dane (Nevermore, Sanctuary) zu "Shades Of War" (#10), neben dem hier auch Eduardo Ardanuy (Dr. Sin) in den sechs-Saiter schlägt.
Produziert wurde "The End Of Time" von Hevilan selbst, die Co-Produktion übernahmen Brendan Duffey, Adair Daufembach und Adriano Daga. Aufgenommen wurde das Ganze in den Norcal Studios, den Spark Studios, dem Estúdio El Rocha, sowie den Johnny Lair Studios.
Mixing und Mastering übernahmen auch wieder Brendan Duffey und Adriano Daga in den Norcal Studios. Das Coverartwork stammt aus der Feder von Robson Piccin.
(Sarah Jacob)