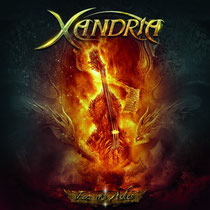 VÖ: 31.07.2015
Label: Napalm Records
Format: CD
Tracklist:
01. Voyage Of The Fallen
02. Unembraced
03. In Remembrance
04. I'd Do Anything For You
05. Ravenheart
06. Now & Forever
07. Don't Say A Word
Neuer Symphonic Metal Epos aus Bielefeld
Mit dieser E.P. veröffentlichen Xandria ein weiteres Meisterwerk ihres Genres. Hier gibt es nicht nur echte Ohrwürmer aus dem eigenen Stift, wie der Opener "Voyage Of The Fallen", oder die Nachfolger "Unembraced" und "In Remembrance" (dieser Song geht direkt ins Herz und regt zum Denken und Träumen an), sondern auch Coverversionen von alt bekannten Klassikern wie Meat Loafs "I'd Do Anything For You" in neuer Form - á la Xandria eben.
Sehr klangvolle Keyboardkompositionen, passend arrangierte Drums und Gitarren lassen auch diese E.P. wieder zu einem Spaß für die Ohren werden.
Auch Dianne Van Giersbergen macht auch bei diesen Stücken eine mehr als gute Figur!
Dazu gibt es dann auch noch zwei Band-interne Cover in Form von "Ravenheart" und "Now & Forever". Diese Songs wurden bisher schon in neuer Besetzung live dar geboten und nun nochmal, eben mit Dianne am Mikro, neu aufgenommen.
Abschließend gibt es noch eine Xandria Version von Sonata Arcticas "Don't Say A Word", welche ebenfalls bombastischer und schwungvoller klingt als je zuvor!
Für alle Fans des Epic/Symphonic Metal ist auch diese E.P. wieder eine absolute Kaufempfehlung!
(Sarah Jacob)