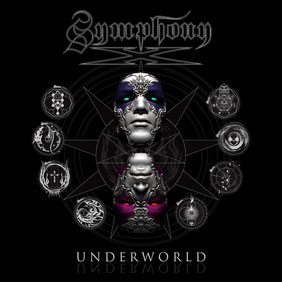 VÖ: 24.07.2015
Label: Nuclear Blast
Format: CD
Tracklist:
01. Overture
02. Nevermore
03. Underworld
04. Without You
05. Kiss Of Fire
06. Charon
07. To Hell And Back
08. In My Darkest Hour
09. Run With The Devil
10. Swansong
11. Legend
Nach vier Jahren Pause ist es soweit: Das neunte Studioalbum der Progressive-Metal Band Symphony X ist auf dem Markt. Es titelt Underworld und knallt den Fans elf neue für sich stehende Songs um die Ohren - jedes einzelne für sich durchkomponiert. Das Ganze entstand im Studio "The Dungeon" von Gitarrist Michael Romeo. Als Cover-Artist verpflichtete die Band aus New Jersey Warren Flanagan. Dieser wirkte unter anderem als Illustrator bei den Filmen Watchmen, Hulk und 2012 mit. 
Kaum liegt die CD im Player erklingen beinahe klassische Töne. Der symphonische Auftakt des frischgepressten Rohlings namens "Ouverture" punktet mit choralen Gesängen, Streichern und tiefen Bass- und Gitarrenriffs. Ein Ouevre an die Zusammenarbeit mit Stratovarius Sänger Timo Kotipelto für dessen Soloalbum "Coldness" aus dem Jahre 2004? "Ouverture" bildet quasi die epische und düstere Einleitung in eine neue Prog-Metal Scheibe par exellence.
Und dann geht es auch schon episch und düster weiter. Es folgen die Songs "Nevermore" und der namensgebende Titel "Underworld". Beide dröhnen durch die Lautsprecher mit schnellen beinahe Power-Metal lastigen Gitarren- und Drumparts, verpassen aber auch nicht die prog-typischen Tempo- und Rhythmuswechsel aufzulegen. Beide Songs zeigen vor allem die Stimmbreite von Sänger Russel Allen, den die lauten Töne alles andere als unterbuttern. Im Gegenteil - er zeigt sein Können in voller Breite, ohne dabei kitschig und zu pathetisch zu wirken. 
Die Balladen kommen selbstverständlich auch nicht zu kurz. Das knapp sechsminütige "Without you" ist schon eher Progressive-Rock als Metal und dürfte so manchen Hörer das Herz schmelzen lassen. Das ganze gespickt mit langen melodischen Gesangparts und Streicheinlagen und das Herzschmerzszenario mit Katze und Liebesfilm - ähm - Whisky und "Dawn of the Dead" kann beginnen. Gleiches gilt für den "Swan Song". Hier singt Allen von Weltschmerz und Liebeskummer: Ein kleiner Einblick: "I stand alone / As my world comes crashing down / Some things are never meant to be / Accept your fate cause there's no second-time around / It´s not the stars or sky that shapes our destiny".
Was bei keiner Prog-Metal Band fehlen darf, ist natürlich das Können der Gitarristen. An dieser Stelle ein Hoch an Michael Romeo, der unter anderem bei dem diabolischen "Run with the Devil" oder dem melancholischen "To Hell And Back" all sein Können in das von ihm beherrschte Instrument schmeißt und die Saiten zum vibrieren bringt.
Als Track ist aber vor allem "Kiss of Fire" hervorzuheben. Hier verbraten Symphony X alles was sie im Repertoire haben: schnelle Riffs, Rhythmuswechsel, harte Drums, chorale Hintergrundgesänge und einen stimmlich energiegeladen Russel Allen der gerade bei den Textzeilen "I'm being buried, feels like I'm buried, buried alive!" mitleidet. Nicht zu vergessen die Gitarrensoli von Romeo. Live dürften hier einige Nacken nach knapp fünf Minuten schmerzen. 
Alles in Allem ist das neue Werk vom Romeo, Allen und Co. ein gelungenes Komplettpaket. Es ist zwar kein Konzeptalbum, wie das 2000 Album V: The New Mythology Suite, aber das braucht es aber auch garnicht zu sein. Underworld bringt alles mit, was ein gutes Progressive-Metal Album braucht: Pathos, Leidenschaft, Härte und epische Gitarreneinlagen - zum Glück aber alles im Rahmen des Erträglichen. Es ist nicht zu verkopft in den Texten oder zu verfrickelt in den Melodien. Das Gute an dem Album ist, dass es erst beim mehrmaligen Hören richtig wirkt. Beim ersten Mal durchhören ist es eher ein Naja. Beim zweiten Mal eine oha - das ist ja doch besser als beim ersten Mal und beim dritten Mal ist  man in dem Bann von Symphony X und lässt sich in die Weiten der Unterwelt ziehen - etwas Pathos muss ja sein.
(Antje Ritter)