Die herausragenden britischen Extreme-Metal-Legenden CRADLE OF FILTH haben gemeinsam mit einige Partnern einen großen Online-Wettbewerb gestartet, um passende Support-Bands für ihre kommende "Inquisitional Tourture" im Oktober/November zu finden.

Die Band sucht Bands in jedem Gebiet, um sie für die Shows im jeweiligen Land zu unterstützen.

Wenn Ihr denkt, Eure Band hat das Zeug, für Dani Filth und seine Höllenhunde zu eröffnen, dann surft auf http://nblast.de/cradleoffilthcomp und füllt das Formular aus, um am Wettbewerb teilzunehmen.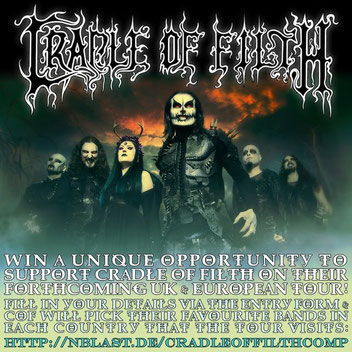 Bandkopf Dani Filth kommentiert: "This is a really cool idea that has worked for us previously touring in Australia, wherein NE OBLIVISCARIS won a slot, and now they're special guests to the entire tour and playing festivals all round the globe. It is also reminiscent of the chance we were given by others to play in our early days as a band, so it's an honour to pass the opportunity onto fresh talent. Plus we get to check out a huge bunch of up and coming music, as do the magazines sponsoring this, so all-in-all its a win/win situation. That is of course unless you lose! Still, worth the punt methinks, these shows are going to be adrenaline-fuelled rushes of pure raucous Metal insanity, for sure!"

Diese besondere Zusammenarbeit wird durch folgende Partner unterstützt: Metal Hammer UK/Germany/Norway/Poland, La Grosse Radio France, Rock Tribune Belgium, Tracks Switzerland, Stormbringer Austria, Spark Czech, Metalized Denmark, Close-Up Sweden, Rock Hard Italy, Inferno Finland.

CRADLE OF FILTH werden im Rahmen ihres aktuellen, höchst erfolgreichen Albums, »Hammer Of The Witches«, das am 10. Juli über Nuclear Blast erschien, touren.

Mehr zu »Hammer Of The Witches«:
'Right Wing Of The Garden Triptych' music video: https://www.youtube.com/watch?v=t2Y4uZ0rnRk
'Right Wing Of The Garden Triptych' making of: https://www.youtube.com/watch?v=LU_Rv9AUUCY
'Deflowering The Maidenhead, Displeasuring The Goddess' lyric video: https://youtu.be/5Zj5g3bTWQ0​
'Enshrined In Crematoria' track video: https://youtu.be/BSMWrqZmZK8 
»Hammer Of The Witches« album trailer 1 (album): http://youtu.be/u3lNhek-hjs
»Hammer Of The Witches« album trailer 2 (artwork): http://youtu.be/fL6jInrLTBA
»Hammer Of The Witches« album trailer 3 (title): https://youtu.be/4tGTAbW9AGw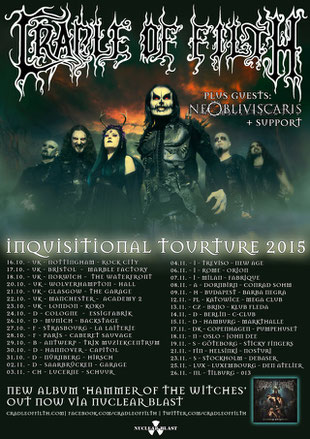 INQUISITIONAL TOURTURE 2015
16.10.2015 - UK - Nottingham, Rock City
17.10.2015 - UK - Bristol, Motion
18.10.2015 - UK - Norwich, The Waterfront
20.10.2015 - UK - Wolverhampton, Wulfrun Hall
21.10.2015 - UK - Glasgow, The Garage
22.10.2015 - UK - Manchester, Manchester Academy 2
23.10.2015 - UK - London, Koko
24.10.2015 - D - Köln, Essigfabrik
26.10.2015 - D - München, Backstage
27.10.2015 - F - Strasbourg, La Laiterie
28.10.2015 - F - Paris, Caberet Sauvage
29.10.2015 - B - Antwerp, Trix Muziekcentrum
30.10.2015 - D - Hannover, Capitol
31.10.2015 - D - Nürnberg, Hirsch
02.11.2015 - D - Saarbrücken, Garage
03.11.2015 - CH - Lucerne, Schuur
04.11.2015 - I - Treviso, New Age
06.11.2015 - I - Rom, Orion
07.11.2015 - I - Milan, Fabrique
08.11.2015 - A - Dornbirn, Conrad Sohm
09.11.2015 - H - Budapest, Barba Negra
12.11.2015 - PL - Katowice, Mega Club
13.11.2015 - CZ - Brno, Klub Fleda
14.11.2015 - D - Berlin, C-Club
15.11.2015 - D - Hamburg, Markthalle
17.11.2015 - DK - Kopenhagen, Pumpehuset
18.11.2015 - N - Oslo, John Dee
19.11.2015 - S - Göteborg, Sticky Fingers
23.11.2015 - S - Stockholm, Debaser
www.facebook.com/cradleoffilth

---
CRADLE OF FILTH - Inquisitional Torture 2015
Die britische Metal-Band Cradle Of Filth kommt im Zuge der Veröffentlichung ihres neuen Albums "Hammer Of The Witches" im Herbst 2015 zurück nach Deutschland, um das Songmaterial erstmals live vorzustellen. Unter dem Motto "Inquisitional Tourture 2015" gastieren Cradle Of Filth im 24. Oktober 2015 in Köln in der Essigfabrik.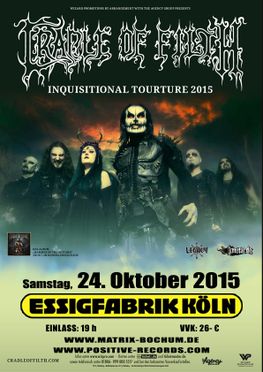 Cradle Of Filth sind zweifellos eine der größten und einflussreichsten britischen Metal-Bands. Ihre Alben sind geprägt von Einflüssen aus fast allen Bereichen des Genres. Vom rauen und ungestümen Debüt "The Principle Of Evil Made Flesh" (1994) bis hin zum farbenprächtigen Bombast von "The Manticore & Other Horrors" (2012) - die Ästhetik Cradle Of Filths hatte große Auswirkungen auf die Entwicklung des Metal. Besonders Frontmann Dani Filth sorgt mit seinen elegischen Texten für eine langanhaltende Fan-Bindung, er selbst beschreibt die Arbeit seiner Band als "Märchen für Erwachsene". Mit dieser Tatsache im Hinterkopf ragt das neue, elfte Album "Hammer Of The Witches" (VÖ: 10.7.2015 über Nuclear Blast/Warner) mit seiner erfrischenden Bestätigung eindeutig als Meilenstein in Cradles langer Geschichte hervor.
Dani Filth, die neuen Gitarristen Richard Shaw und Ashok, Bassist Daniel Firth, Keyboarderin Lindsay Schoolcraft und dem unerschütterlichen, perkussiven Motor Martin Skaroupka entwickeln während der 56 Minuten extravaganten, abenteuerlichen und packenden Extreme Heavy Metal. Die neue Platte balanciert perfekt zwischen der klassischen Twin-Lead- Schwülstigkeit der Erfolge der 90er Jahre wie "Dusk & Her Embrace" (1996) und "Cruelty & The Beast" (1998) und den zäheren Strukturen der neuesten Meisterwerke wie "Godspeed On The Devil's Thunder" (2008) und "Darkly Darkly Venus Aversa" (2010). "Hammer Of The Witches" ist das wohl fokussierteste, fesselndste und furchtloseste Album, das die Formation jemals produziert hat und das sie auf der Tour im Herbst in ihrer eigenen Art und Weise live vorstellen werden.
Alle weiteren Tourdaten der Band findet ihr hier.