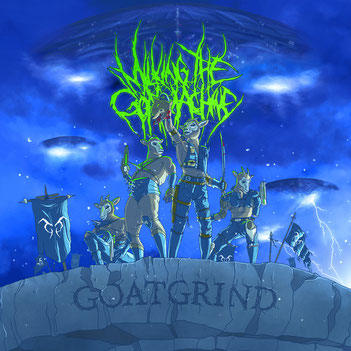 VÖ: 26.06.2015
Label: NoiseArt Records
Format: CD

Tracklist:
01. Goatgrind
02. Farm Of The Mutilated
03. Blow Your Sneakers
04. Fear The Goathammer
05. #Idiot
06. U.H.T. Milk Is Murder
07. Mrs. Goatfire (Nanny Of The Damned)
08. Talk To The Hoof
09. No More Space In Herd
10. Shadows And Crust
11. The Goatastic Four
12. Burn Your Shed
13. Sound Of Breaking Horns
14. Wolf Expander
15. Wheels Of Fire (Manowar Cover)

Ein neues Werk der Ziegen(böcke) von Milking The Goatmachine erblickte im Juni 2015 das Licht der Welt und fand sich schnell in die Herzen der bekennenden Fans.

Zugegebener Maßen ist auch dieses Exemplar erneut ein wenig zu belächeln, ob der abermals sehr goat-igen Art.
Schon beim ersten Track, der auch der Titeltrack des Langspielers ist, beginnt man etwas zu schmunzeln als der einleitende Text abschließt mit den Worten: "Bow down to the Lord of goats and spreech the word of GOATGRIND!".
Dem folgt ein tatsächlich auch ernst zu nehmender Death Metal, der allerdings durch die goat-lyrics wiederum amüsant wirkt. Beim Bahnfahren, oder in anderen öffentlichen Örtlichkeiten kann es daher schnell passieren, dass man unweigerlich mit grinsendem Gesicht dem sonst oft tristen Alltag begegnet.
Hierzu passt auch sehr gut der Track "U.H.T. Milk Is Murder" mit seinem "Hey there, I'm here to talk to you about save milk."
"Goatgrind" bietet alles, was das Ziegenherz begehrt. Donnernde Drums, rasende Gitarren, fettes Growling und das alles gewürzt mit einer ordentlichen Priese Humor, verpackt in guten Death Metal.
Eben genau das ist es aber auch, was Milking The Goatmachine zu dem machen, was sie sind. Und dafür werden sie von ihren Fans geliebt.
Wer die Jungs schon einmal live gesehen hat, der weiß, das sie auch echte Qualitäten zu bieten haben.
Daher ist "Goatgrind" ein weiteres Muss für das CD Regal!
Aktuell sind keine weiteren Konzerttermine für 2015 bekannt. Im kommenden Jahr will sich die Band eine kleine Auszeit nehmen und im Stall neue Kräfte sammeln. Wer weiß, vielleicht kommen Milking The Goatmachine 2017 mit neuem Album zurück auf die Bühnen der Welt! Wir werden es euch wissen lassen. Schaut dazu einfach hin und wieder mal in den Tourdaten vorbei.

Ein Statement der Band zum Album:
"Wie es bei den meisten Bands üblich ist, haben wir uns mit jedem Album weiterentwickelt. Wie haben nun beschlossen, den Weg zurück zu gehen. Unser Konzept ist kein Konzept und wir spielen einfach das, was uns in den Sinn kommt. Dabei nehmen wir keinen Huf vor den Mund und interpretieren auch gerne mal ein paar alte Herren in Lederschlüpfern. Der Titel "Goatgrind" steht für das, was es ist. Unser Style voll auf die Fresse."