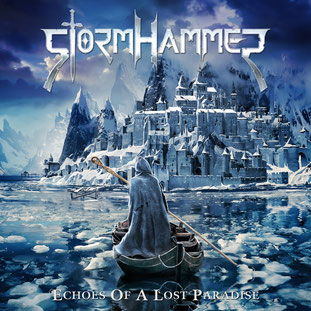 VÖ: 12.06.2015

Label: Massacre Records

Format: CD

Tracklist:

01. Remembrance
02. Glory Halls Of Valhalla
03. Fast Life
04. Echoes Of A Lost Paradise
05. Leaving
06. Bloody Tears
07. Holy War
08. Black Clouds
09. Into Darkest Void
10. Promises
11. Stormrider
12. The Ocean

Mit "Echoes Of A Lost Paradise" flattert mal wieder eine echt starke Power Metal-Scheibe auf den Markt. Das bereits fünfte Album der Münchner wurde in den SH Studios aufgenommen. Für das Mixing wurde Mario Lochert verpflichtet; das Mastering hat die Band Jan Vacik (Serious Black, Schwarzer Engel) zu verdanken. Beides geschah im Dreamsound Studio in München. Das Coverartwork stammt von Jan Yrlund / Darkgrove.net (Apocalyptica, Manowar, Legion Of The Damned, Korpiklaani, Impaled Nazarene, Stratovarius)

Nun erstmal zu den Tracks. "Remembrance" ist ein zweiminütiges Intro, dass den Hörer schon mal in die richtige Atmosphäre versetzen soll. "Glory Halls Of Valhalla" ist ein absolut gelungener Einstieg und vermittelt sofort die Power des Langspielers und damit auch gleich, was die Jungs an ihren Instrumenten so können. Der Titeltrack "Echoes Of A Lost Paradise" steht dem in nichts nach und auch "Bloody Tears und "Black Clouds" können hier locker mithalten. Mit "Into Darkest Void" zeigt die Band ihre gefühlvolle Seite. Hier kann Sänger Jürgen Dachl beweisen, dass er auch die seichten Töne gerade heraus bringt. "Promises" und "Stormrider" überzeugen dann wieder mit Power bevor "The Ocean" die CD, erneut mit einer Ballade, zum Abschluß bringt.

Die Band kann man hier und da auf Konzerten sehen und sie freuen sich sicherlich über den ein oder anderen neuen Fan. Ich hoffe auf weitere Konzerte um mich persönlich von den Live-Qualitäten überzeugen zu können. "Echoes Of A Lost Paradise" bekommt jedenfalls meine Kaufempfehlung für alle Fans von Bands wie Blind Guardian, Grave Digger, Powerwolf & Co.

(Sarah Jacob)