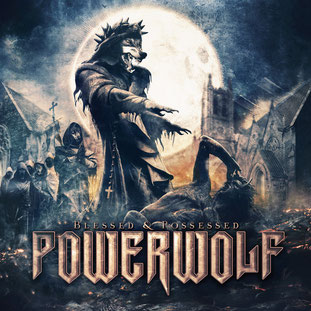 VÖ: 17.07.2015
Label: Napalm Records
Format: CD

Tracklist:


Mit "Blessed & Possessed" bieten Sänger Attila und seine Mannen ein neues Meisterwerk aus dem Hause Powerwolf.

Schon beim Opener, dem Titeltrack "Blessed & Possessed" bleibt kein Zweifel am Talent der Musiker. "Dead until Dark" knüpft hier sehr gut an. Das hymnische "Army Of The Night" könnte tatsächlich auch die Metalhymne 2015 werden, wobei "We Are The Wild" hier auch hoch im Kurs steht.
"Higher Than Heaven" und "Christ & Combat" animieren den gewillten Hörer zum schleunigen Schütteln der Haare, oder zumindest aber zum Fuß wippen, sollte das Bangen gerade gesellschaftlich unangebracht sein.
"Let There Be Rock!" ... äh... falsche Band... "Let There Be Night" ist der Schlußtrack auf "Blessed & Possessed". Opernartige Gesänge, marschierende Drums, tief-melodiöse Keyboards erschallen und lassen den Langspieler nochmal mit dem richtigen Wumms enden. Nicht im Sinne von metallischem Geprügel, eher als seichten Abgang.

Epische Melodien, klare Lyrics und fetzige Melodien unterstreichen auch auf dem sechsten Studioalbum das Können der Saarbrückener. Wer sich davon selbst überzeugen möchte, kann sich den passenden Termin aus unserer Tubrik Tourdaten raus suchen.

(Sarah Jacob)
01. Blessed & Possessed
02. Dead Until Dark
03. Army Of The Night
04. Armata Strigoi
05. We Are The Wild
06. Higher Than Heaven
07. Christ & Combat
08. Sanctus Dominus
09. Sacramental Sister
10. All You Can Bleed
11. Let There be Night