Nach dem Arch Enemy kurzfristig den Termin vom 17.07.2015 canceln mussten, um beim diesjährigen Bang Your Head Festival auftreten zu können, gibt es nun den Nachholtermin. Merkt euch daher unbedingt den 02.09.2015 vor!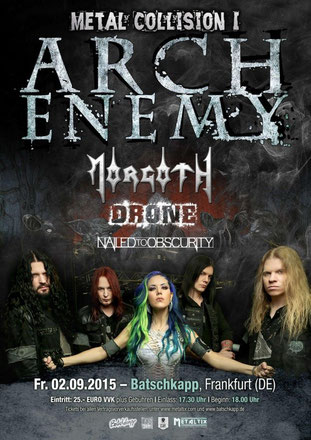 An diesem Tag wird die Frankfurter Batschkapp zum glühen gebracht!

Den Opener des Tages machen die Norddeutschen Nailed To Obscurity, die seit 2005 die Erde mit ihrem Melodic Death/Doom Metal überrennen. Bisher gibt es erst ein Demo und zwei Alben (2005: Our Darkness (Demo), 2007: Abyss... (Album), 2013: Opaque (Album, Apostasy Records). Da die letzte Scheibe bereits 2013 erschien, ist die Hoffnung groß, hier bald einen neuen Langspieler in die Finger zu bekommen.

Wir arbeiten uns auf der Landkarte südwärts und stoßen somit auf den nächsten Künstler: Drone aus Niedersachsen spielen eine interessante Mischung aus Metalcore, Thrash und Death Metal. Sie passen also auch perfekt ins Lineu. Bisher konnte die Band eine EP und vier Studioalben auf den Markt bringen (2006: Octane (EP), 2007: Head-on Collision (Album), 2009: Juggernaut (Album), 2012: For Torch and Crown (Album), 2014: Drone (Album)). Gerade vor ein paar Wochen spielten sie noch auf dem Rock Harz Open Air und eine handvoll Termine steht in diesem Jahr auch noch an. Freut euch schon mal auf Klänge im Sinne von Machine Head oder Pantera.

Kommen wir nach NRW: die nächsten im Bunde sind Morgoth aus Meschede. Diese Band bedarf eigentlich weniger Worte. Bereits 1985 gegründet, wurde nach diversen Namens- und Besetzungswechseln eine Band, die bereits recht erfolgreich mehrere Releases verzeichnen kann. Gerade im März diesen Jahres erschien das aktuelle Studioalbum "Ungod", welches bei den Fans hohen anklang fand. Bei dieser Band gibt es keine schnöden Noten, sondern geile Death Metal Sounds zum Haare schütteln!

Und last but not least: Arch Enemy! Die eigentlich schon fast tot geglaubte Melodic Death Metal Band aus Schweden, konnte nun durch den Wechsel am Mikro nochmal richtig starken Anlauf nehmen um mit dem aktuellen Album "War Eternal" in die Charts springen und den Fans und Hetzern beweisen, dass sie nach wie vor gute Musik schreiben können. Gerade durch die vielfältigere Stimme von Frontfrau Alissa White-Gluz wurden viele Alt- und Neu-Fans wieder auf die Band aufmerksam. Und ich denke, die sympatische Ausstrahlung von Alissa fand sicherlich auch großen Anklang. Nun sind Arch Enemy schon eine ganze Weile mit "War Eternal" auf Tour und werden nicht müde, den Menschen die Songs nahe zu bringen. Es lohnt sich auf jeden Fall, daher sollte niemand diesen Termin verpassen!

Versammlt euch, Khaos Legions! Horns Up!
(Sarah Jacob)

Hier noch ein paar Eckdaten der Veranstaltung:

Beginn: 18:00 Uhr
Einlass: 17:30 Uhr
Tickets: 28,50 €

Erhältlich bei: Metaltix und Batschkapp

Ein Tag, fünf Bands - Metal Collision!