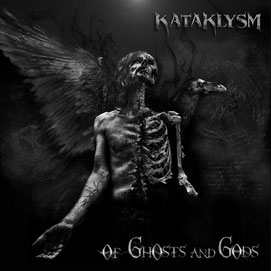 Vö: 31.07.2015
Label: Nuclear Blast
Format: CD

Tracklist:
01. Breaching The Asylum 4:04
02. The Black Sheep 4:33
03. Marching Through Graveyards 5:22
04. Thy Serpents Tongue 3:56
05. Vindication 3:42
06. Soul Destroyer 3:28
07. Carrying Crosses 4:31
08. Shattered 5:02
09. Hate Spirit 4:36
10. The World Is A Dying Insect 6:39

Kataklysm gibt es bereits seit ca. 25 Jahren. Die Band aus Quebeck (Canada) schafft es seit jeher immer wieder ein kraftvolles und frisch klingendes Album auf den Markt zu bringen und ihre Fans so weiter um sich zu scharen. So schafften sie es mit all den Jahren in den Olymp des Extreme Metal. Sie tourten bereits über weite Teile des Erdballs und konnten mit dem letzten Album "Waiting For The End To Come" große Erfolge feiern.

"Of Ghosts And Gods" ist das nun Kataklysms zwölftes Album und klingt ebenso powervoll und mächtig.

Der Opener "Breaching The Asylum" beginnt mit einem Vocalspart, wie man ihn zB schon von "In Shadows And Dust" kennen und lieben lernte.
"The Black Sheep" wurde schon, ebenso wie "Soul Destroyer", im Vorfeld veröfentlicht und überzeugt mit dem können der Band. "Marching Through Graveyards" zeigt auch wieder die brachiale Gewalt, die beim Songwriting nicht fehlen darf. "Carrying Crosses" und "Shattered" machen ebenso Spaß an "Of Ghosts And Gods" wie der Schlußtrack "The World Is A Dying Insect".

Produziert wurde das Album vom bandeigenen Gitarristen J-F Dagenais; der Gesang wurde mit Produzent Mark Lewis (CANNIBAL CORPSE, DEVILDRIVER, WHITECHAPEL) in den Audiohammer-Studios aufgenommen und das Mixing übrrnahm der legendäre Produzent Andy Sneap (MEGADETH, AMON AMARTH, TESTAMENT).

(Sarah Jacob)