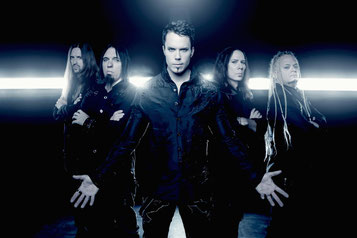 Das brandneue Musikvideo der Symphonic Metal Giganten KAMELOT feiert heute exklusive Weltpremiere!  

Das neue Musikvideo zum Track "Liar Liar (Wasteland Monarchy)" featuring Alissa White-Gluz (Arch Enemy) schließt dabei nahtlos an die Story des Videos zu "Insomnia" an.
Cinastische, episch und emotional präsentieren KAMELOT heute ein neues gesellschaftskritisches Video vom aktuellen Album "Haven". Tretet ein in die Welt von KAMELOT und seht die Videopremiere zum atemberaubenden Track "Liar Liar (Wasteland Monarchy)" hier: https://www.youtube.com/watch?v=VDLZ6Mqy7AM&feature=youtu.be

Sichert euch jetzt das aktuelle Meisterwerk  "Haven" via Napalm Records, Amazon oder iTunes! 

KAMELOT sind demnächst auf umfangreicher Headlining Tour durch ganz Europa! Verpasst diese Tour keinesfalls live in eurer Nähe: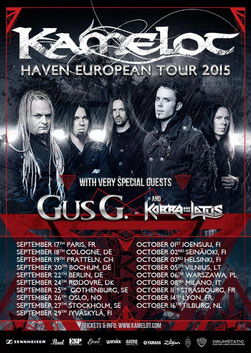 EUROPEAN HEADLINING TOUR
17.09.2015 - F - Paris, La Cigale
18.09.2015 - D - Köln, Essigfabrik
19.09.2015 - CH - Pratteln, Z7 Konzertfabrik
20.09.2015 - D - Bochum, Zeche
22.09.2015 - D - Berlin, Postbahnhof am Ostbahnhof
24.09.2015 - DK - Rødovre, Kulturhuset Viften
25.09.2015 - S - Gothenburg, Trädgår'n
26.09.2015 - NO - Oslo, Sentrum Scene
27.09.2015 - S - Stockholm, Debaser Medis
29.09.2015 - FI - Jyväskylä, Lutakko
01.10.2015 - FI - Joensuu, Kerubi
02.10.2015 - FI - Seinäjoki, Rytmikorjaamo
03.10.2015 - FI - Helsinki, Circus
05.10.2015 - LT - Vilnius, Forum Palace
06.10.2015 - PL - Warszawa, Club Progresja
08.10.2015 - I - Milano, Live Music Club
13.10.2015 - F - Strasbourg, La Laiterie
14.10.2015 - F - Lyon, Ninkasi Kao
16.10.2015 - NL - Tilburg, Poppodium 013
Mehr Infos & News zu KAMELOT auf:
www.facebook.com/kamelotofficial

---
Kamelot - Haven Tour 2015
Kamelot, die Meister des symphonischen Metals kehren nach 2 Jahren Welttournee und 12 Monaten intensiven Songwritings und Studioarbeit zurück. Mitte 2014 begann die Band im Studio mit der Arbeit am Nachfolger des gefeierten Erfolgsalbums Silverthorn. Das neue Album mit dem Titel Haven wird Kamelot-Geschichte schreiben. Es wird (außer in Asien) weltweit durch Kamelot Music LLC exklusiv bei Napalm Records/Universal und Napalm Records/ADA/Warner veröffentlicht. Das Album, das am 5. Mai in Nord Amerika und am 8. Mai in Europa und dem Rest der Welt erscheint, präsentiert Kamelot in Höchstform. Inzwischen wurden das atemberaubende Artwork, die Track-Liste und die Daten der Veröffentlichung bekanntgegeben. Haven kann seit Ende Februar beim Napalm Records American & Europe Webstore in verschiedenen exklusiven limitierten Bundles vorbestellt werden.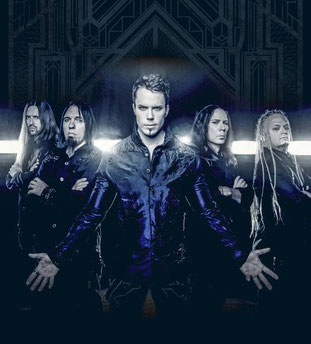 Es ist Zeit, in die cineastische, epische und emotional dynamische Welt von Haven einzutreten. Das neue Album zeigt alle für Kamelot signifikanten Elemente, jedoch fügt die Band neben großartigen emotionalen Motiven, die auf die früheren Zeiten Kamelots zurückgreifen, auch neue und moderne Elemente hinzu. Kamelots kunstvolle Musik ist angefüllt mit Symbolik, die im Zusammenhang steht mit der Weltanschauung der Band und ihrer Auffassung von der Zivilisation der Gegenwart.
"Das Album Haven vermittelt die Grundstimmung einer Welt, die verrückt wird. Eine graue Wolke zieht sich über unserer Welt zusammen. Wir sind hier, um einen Silberstreifen zu finden, mit einem Album, das düster und melancholisch aber gleichzeitig auch erbaulich ist und dem Zuhörer einen Zufluchtsort (Haven) bietet in einer wahnsinnig gewordenen Welt. Wir sind sehr stolz auf die Songelemente und die Vielfältigkeit auf Haven", fügt Gitarrist Thomas Youngblood hinzu. "Die Songs schaffen den Spagat zwischen Düsterkeit und Melancholie und erbaulichen, melodischen Elementen", sagt Sänger Tommy Karevik. "Haven hat eine aggressive Komponente, die die Band als die revolutionäre Wende in der Story repräsentiert", erzählt uns Kamelots Oliver Palotai.
Haven wurde produziert vom Gefeierten Produzenten Sascha Paeth and gemastert von Jacob Hansen. Es ist ein gewaltiges Album, das Kritiker und Fans sicherlich gleichermaßen begeistern wird. Gastmusiker wie Alissa White-Gluz (Arch Enemy), Troy Donockley (Nightwish) und Charlotte Wessels (Delain) sind auf dem Album zu hören. Das atemberaubende Artwork wurde von Stefan Heilemann kreiert mit der Unterstützung von Gustavo Sazes (zusätzliche künstlerische Gestaltung, Layout).
Nach Veröffentlichung von Haven wird Kamelot zu einer großen Welttour aufbrechen, beginnend in Nordamerika im April/Mai 2015, gefolgt von einigen Shows in Europa im Sommer. Mit der The Haven Eurpean Tour im September/Oktober wird die Band nach Europa zurückkehren mit ihrer bisher größten Headliner Tour.