Es wird die Rock-Sensation des Jahres: "That`s The Spirit", die fünfte Metamorphose von BRING ME THE HORIZON, die am 11. September erscheinen wird!
In den letzten zwei Jahres hat es die Band eindrucksvoll geschafft, das Metal-Genre in die Musikwelt der Massen zu tragen, ohne dabei auch nur ein bisschen an der Glaubwürdigkeit ihres Sounds zweifeln zu lassen. Der Gipfel dieser Entwicklung war neben zahlreichen Shows auf der ganzen Welt, einem Top-3-Album und über 2 Millionen verkauften Alben, ihr ausverkauftes Konzert in der Wembley-Arena in London am 5. Dezember 2014.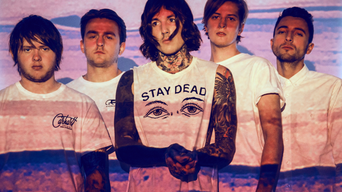 Mit 'Happy Song' gaben sie just einen ersten Vorgeschmack auf ihr neues Werk. Die Veröffentlichung veranschaulichte anhand der Trends in den sozialen Medien, wie groß die Sehnsucht und Erwartungen weltweit nach Bring Me The Horizon sind.
Aufgenommen in den Black Rock Studios in Griechenland und produziert von keinen geringeren als den Bandmitgliedern Oli Sykes und Jordan Fish selbst, nimmt dich "That's The Spirit" mit auf eine begeisternde Reise, gespickt mit großen Riffs, eingängigem Gesang und Stadien-füllenden Monster-Songs.
Die erste Single "Throne" feierte gestern abend ihre Premiere bei Annie Mac's Radio 1 Show in England als "Hottest Record" – und nun darf sich die ganze Welt an der surrealen Brillanz des passenden Videoclips laben:eine Hymne an alle Underdogs, die die Zähne blecken, verpackt in schaurig-schönes Bildwerk. Regie führten Oli Sykes und Plastic Kid!