So vielfältig sich der internationale Rock´n`Roll heutzutage präsentiert, so viele Drehungen und Wendungen er in den zurückliegenden 50 Jahren auch gemacht haben mag: Sobald diese Musik aus England kommt hat sie offenkundig automatisch ein unverkennbar britisches Flair. Das mag daran liegen, dass England als Wiege der Rockmusik gilt und deshalb auf eine jahrzehntelange Tradition zurückblicken kann. Denn, Hand aufs Herz: Was wäre die Welt heute ohne Led Zeppelin, ohne Free, The Who oder die Stones? Eine Frage, die The Jokers aus Liverpool auf ihre ganz eigene Weise beantworten. Die vierköpfige Band um Sänger Wane Parry und Gitarrist Paul Hurst macht auch auf ihrer dritten Scheibe Hurricane kein Hehl daraus, wo ihre Wurzeln liegen und wie die unmissverständliche Marschrichtung lautet. "Wir nennen unseren Stil ´Big Rock`, dieser Sound und dieses Grundgefühl durchzieht alle unsere Alben", erläutert Hurst und fügt hinzu: "Es sind Songs mit Groove, Riffs, Hooks und starken Gesangsmelodien. Auf Hurricane haben wir an dieser Mischung festgehalten und gleichzeitig bei den Aufnahmen versucht, etwas mehr von der rauen Live-Energie der Band einzufangen." Eine Energie, die in sämtlichen 12 Tracks (plus Bonusmaterial) der Scheibe zu spüren ist.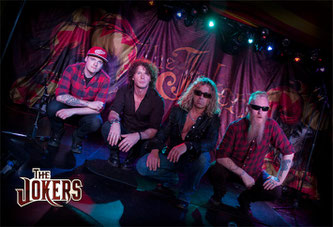 Auch nach ihrer 2013er Veröffentlichung Rock´n`Roll Is Alive haben The Jokers weiterhin jede Gelegenheit genutzt, um ihre packenden Rocksongs der Öffentlichkeit zu präsentieren. Zahlreiche Club-Gigs in ganz England, eine dreiwöchige Tour durch Spanien, dazu gefeierte Teilnahmen an namhaften Festivals wie Planet Rockstock, Hard Rock Hell oder Guildfest – The Jokers wissen, dass die wichtigsten Inspirationen für ihre Musik vor allem auf der Straße zu finden sind. Zudem haben die Musiker parallel zu ihren Konzertaktivitäten bereits unmittelbar nach Veröffentlichung von Rock´n`Roll Is Alive damit begonnen, diese Einflüsse in neue Songs einfließen lassen. So häufig wie irgend möglich trafen sich Parry, Hurst und die beiden Neuzugänge Dan Evans (Schlagzeug) und Phil Hartley (Bass) in ihrem Proberaum und arbeiteten am Material für Hurricane. Apropos: Mit ihren beiden neuen Bandmitgliedern haben Parry und Hurst offensichtlich absolute Volltreffer gelandet: "Dan gehört seit zwei Jahren zur Band. Sein Stil ist eine Mixtur aus John Bonham und Stuart Copeland. Phil am Bass sieht zwar aus wie ein Wikinger, spielt aber wie Andy Fraser."
The Jokers sind also zu Recht stolz auf Hurricane. Die Scheibe präsentiert traditionelle Rockmusik in ihrer zeitlosesten und reinsten Form. Und sie zeigt eine Band, die vor Spielfreude nur so strotzt und diese Vitalität in pure Energie ummünzt. Hurst: "Wir sind eine positive Spaß-Band und unsere Musik spiegelt dies wieder. Wir sind einfach nur eine ehrliche, hart arbeitende Rockgruppe."
Hurricane erscheint am 18. September 2015 über Steamhammer/SPV als CD, LP und Download, ein Datum, das zum Freudentag für alle Fans traditioneller Rockmusik und zum Highlight für diese Musikrichtrung generell wird. 
Tracklisting CD:

01. Run 4 Cover 3:42
02. Hurricane 3:35
03. Her Word Is Love 4:25
04. She`s On Fire 4:33
05. Summer Time 2:52
06. Angel 4:48
07. Lockdown 3:05
08. Dream 6:03
09. Salvation 2:46
10. Silver City 3:42
11. Everywhere I Go 3:31
12. Rockerman 3:45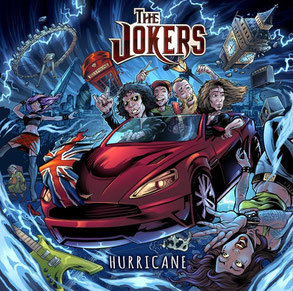 Tracklisting LP:
Side 1
01. Run 4 Cover 3:42
02. Hurricane 3:35
03. Her Word Is Love 4:25
04. She`s On Fire 4:33
05. Summer Time 2:52
Side 2
01. Angel 4:48
02. Lockdown 3:05
03. Dream 6:03
04. Silver City 3:42
05. Salvation 2:46