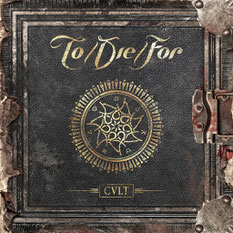 VÖ: 26.06.2015
Label: Massacre Records
Format: CD
Tracklist:
01. In Black
02. Screaming Birds
03. Unknown III
04. Mere Dream
05. You
06. Straight Up
07. Let It Bleed
08. End Of Tears
To/Die/For... eine Band, die ich persönlich zum letzten Mal mit den Alben "All Eternity" und "Epilogue" gehört habe. Diese sind ja schon eine ganze Weile auf dem Markt (1999 & 2001) und so überraschte mich die Stimme des noch und wieder Frontmanns Jarno "Jape" Perätalo, die auf diesem Langspieler wesentlich kratziger und rauher klingt, als ich sie von den alten Scheiben gewohnt war.

Musikalisch bewegt sich das nun bereits siebte Album der Finnen im gewohnten Melancholic Goth Rock und steigt zackig mit dem ersten Song "In Black" ein. "Screaming "Birds" als Folgetrack erinnert anfänglich schon sehr an alte Sentenced Songs aus den "Frozen" und "Crimson" Zeiten, nimmt dann aber wieder den typischen T/D/F Charakter an. Selbigen trägt auch "Unknown III". Hier erkenne ich auch zum ersten mal wieder die alte Stimme der eingangs genannten Alben. "Mere Dream" kommt als Ballade daher und wabert eher träge durch die Boxen daher, wird aber vom folgenden "You" durchbrochen und man kann wieder erfreut mit dem Fuß zur Musik wackeln. So. Und was wäre ein T/D/F Album ohne Coverversion von altbekannten Charthits? Richtig - nix! Nach "In The Heat Of The Night" (1999), "(I Just) Died In Your Arms" (2003), oder auch "New Year's Day" (2005) wurde auf Cult nun der Paula Abdul Song "Straight Up" veröffentlicht. Damit kann ich mich ehrlich gesagt nicht wirklich anfreunden. Irgendwie passt der Song, mit dieser Musik und den Stimmen nicht wirklich zusammen. Umso besser gefällt mir aber der vorletzte Track "Let It Bleed" und das Albumschlußlicht "End Of Tears", welches auch wieder eher vor sich hin kriecht, aber als letzter Track recht gut zum Album passt.
Cult ist auch als limitiertes Digipak zu haben und enthält darauf einen exklusiven Bonustrack namens "Dying Ambers" welches ein Demo aus dem Jahre 2001 ist!
Aufgenommen, gemischt und gemastert wurde Cult von Juho Räihä bei SoundSpiral Audio. Das Coverartwork stammt aus der Feder von Raziel Kainen (Loud N' Clear, Dead Culture, Memnoir), auch bekannt als
Dark-Prince Graphix.
(Sarah Jacob)