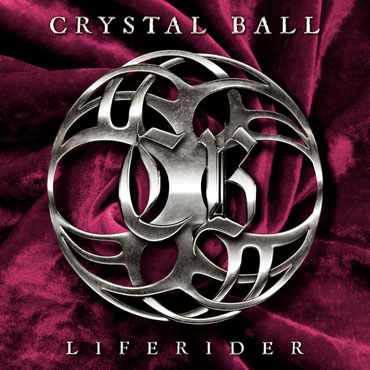 VÖ: 22.05.2015

Label: Massacre Records

Format: CD

Tracklist:

01. Mayday!
02. Eye To Eye
03. Paradise
04. Balls Of Steel
05. Hold Your Flag
06. Gods Of Rock
07. Take It All
08. Bleeding
09. Rock Of Life
10. Antidote
11. LifeRider
12. Memory Run
Digipak Bonus Tracks:
13. Sacred Heart
14. Sign Of The Southern Cross
15. Not Like You

Schon zum Einstieg hört man LifeRider, dem achten Album, die volle Power des schweizer Hard Rock an und welche Einflüsse CRYSTAL BALL von anderen Künstlern haben. "Mayday" macht gleich klar, wo der Frosch die Locken hat! Zum zweiten Track hat sich die Band gesangliche Unterstützung von Noora Louhimo (Battle Beast) ins Boot geholt und den Song so zu einem echt starken Duett gemacht. Noora ist übrigens auch bei den Backing Vocals zu "Mayday" zu hören. Während "Paradise" eher eine nette 80er Jahre Rock Nummer ist, schmettert die Band bei "Balls Of Steel" - wie soll's auch anders ein - erstmal fette Gitarrenriffs gen Boxen. Zeitweise erinnert die song- und melodieart gepaart mit dem Gesang an alte Priest Songs. Und da sind sie wieder - die Verbindungen zu den Einflüssen der Band. Geiler Song - gefällt mir bei jeden Hören immer besser! "Hold Your Flag" hat schon eher was hynmisches mit einfach und eingängigen Melodien. "Gods Of Rock" ist wieder eine starke Hard Rock Nummer, bei der Stefan Kaufmann (ex-Accept, ex-U.D.O.) bei den Backing Vocals gastiert. Er spielt auch die Akustikgitarre zu "Memory Lane".
Ich will euch jetzt nicht mit einer einzelnen Songbeschreibung des kompletten Albums langweilen. Meine Empfehlung an alle, die den guten alten Hard Rock mögen, Fans von Priest, Pretty Maids, Pink Cream 69, Freedom Call, Michael Schenker, Axxis, etc etc etc: kauf dieses Album, ihr werdet nicht enttäuscht sein! Ich würde mich auch sehr über eine Tour freuen um mich von den Livequalitäten zum Album zu überzeugen.

LifeRider ist als limitiertes Digipak mit drei exklusiven Bonustracks und als Jewel Case CD erhältlich.
Produziert, gemixt und gemastert wurde LifeRider von Stefan Kaufmann im ROXX Studio in Solingen.
Das Cover und Artworkdesign stammt von Thomas Ewerhard (Kissin' Dynamite, Shakra, Rage, Avantasia,
Volbeat, Edguy u.a.).
(Sarah Jacob)