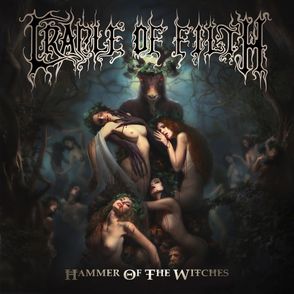 VÖ: 10.07.2015
Label: Nuclear Blast
Format: CD
Tracklist:
01. Walpurgis Eve 1:29
02. Yours Immortally 6:02
03. Enshrined In Crematoria 5:46
04. Deflowering The Maidenhead, Displeasuring The Goddess 6:53
05. Blackest Magick In Practice 6:48
06. The Monstrous Sabbat (Summoning The Coven) 1:51
07. Hammer Of The Witches 6:29
08. Right Wing Of The Garden Triptych 5:54
09. The Vampyre At My Side 5:45
10. Onward Christian Soldiers 6:59
11. Blooding The Hounds Of Hell 2:03
Gewohnt mystisch beginnt das neue und elfte Studioalbum von CRADLE OF FILTH mit "Walpurgis Eve" bevor zu "Yours Immortally" die Drumms und Gitarren über einen hereinbrechen, wie ein unvorhergesehener Worbelsturm. Das komplette Album entspricht dem bekannten Stil der wohl einflußreichsten, britischen Black Metal Band.
"Wir haben uns nicht nur mit den Musikern, die kürzlich zu uns gestoßen sind, sondern auch mit den Fans der Band zusammengesetzt und uns angehört, was sie wollen und was sie von einem neuen Album erwarten", erklärt Dani den Kreativ-Prozess, der hinter »Hammer Of The Witches« steckt. "Das war der halbe Spaß. Wir versuchten, verschiedene Ansichten auf die bestmögliche Weise zu erfüllen. Also öffneten wir die Schleusen, um durch solche Ereignisse neue Ideen zu gewinnen, aber andererseits haben wir einen umfangreichen Back-Katalog, von dem wir uns inspirieren lassen können!"
Hammer Of The Witches ist eines dieser typischen Konzeptalben bei dem - wie der Name schon sagt, die Hexenverfolgung thematisiert wird.
"Das ist die perfekte Thematik für uns", betont Dani. "Dieses furchtbare Buch, das 'Malleus Maleficarum'… Es handelt von der Folter und Verfolgung der Hexen und auf welche Art und Weise man sie auf legalem Weg bestrafen kann. Das war der militante Hammer der Kirche gegen die Hexen. Unsere Auslegung ist ein Hammer für die Hexen, der Albumtitel handelt von der Rache für die jahrzehntelange Folter. Die aufwändigen und wunderschönen Illustrationen des Albums stammen vom lettischen Künstler Artūrs Berzinsh; dieses ist vermutlich das beste Artwork, das COF je hatten und das mag schon etwas heißen. Ich habe ziemlich eng mit ihm zusammengearbeitet, um ihn von ein paar wahrhaftig schönen, aber gruseligen Bildern abzuhalten, die in einem neo-klassischen Früh-Renaissance-Stil entstanden sind, aber mit dieser thematischen Vorgabe und welche Werke derzeit von Artūr stammen... Es ist einfach insgesamt etwas seltsam! Das Artwork greift also den ganzen Inhalt der Platte auf und stellt dieses dämmrige Thema, die mittelalterliche Stimmung bildlich dar."
Auch wenn das Album so typisch Cradle-like klingt, gibt es immer wieder Neues darauf zu entdecken. Die Band klingt, wie man sie kennt, jedoch nicht langweilig.
"Ich denke, dass viele Leute definitiv von diesem Album überrascht sein werden", erklärt Dani. "Es ist wirklich sehr intensiv. Es gibt immer diesen Einwand, dass "CRADLE seit den »Dusk«-Tagen kein Black Metal mehr wären" und diesen ganzen Unsinn. Die Leute zwingen dir lieber diese Schlagworte auf als andersherum. Wir waren schon immer eine Heavy Metal-Band, die begeistert davon war, vom Okkult und der dunklen Seite umhüllt und von diesen unterstützt zu werden. Heavy Metal-Musik und der Okkult sind seit BLACK WIDOW und BLACK SABBATH aus unerklärlichen Gründen miteinander verbunden, da gibt es keine zwei Meinungen. Und dieses Album zelebriert diese Tatsache gnadenlos. Es ist eine höllische schwarze Messe." 
(Sarah Jacob)