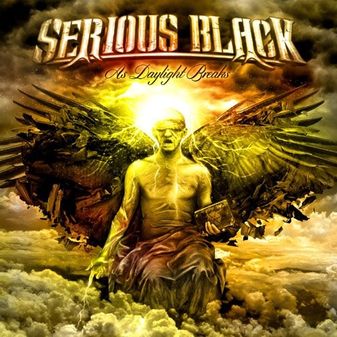 VÖ: 16.01.2015

Label: AFM Records

Format: CD

Tracklist:

01. I Seek No Other Life
02. High And Low
03. Sealing My Fate
04. Temple Of The Sun
05. Akhenation
06. My Mystic Mind
07. Trail Of Murder
08. As Daylight Breaks
09. Someone Else's Life
10. Setting Fire To The Earth
11. Older And Wiser
12. Listen To The Storm
13. Fly On
14. No Son Of Mine

Mit dem Album "As Daylight breaks" ist über AFM Records ein neuer Stern am Metalhimmel aufgegangen. Die Band besteht nur aus Profis was man direkt am Songwriting merkt. Sei es ein Urban Breed am Gesang, Mario Lochert am Bass oder ein Thomen Stauch an den Drums, man merkt in jedem Song die Erfahrung der Musiker. So wird einem ein Album geboten was zwar klar an die guten alten Zeiten in den 90 ern erinnert, gleichzeitig aber auch jung und erfrischend wirkt. Direkt der Opener "I seek no other life" geht direkt ins Ohr, gefolgt vom nächsten Kracher "High and low" . Und mit dem Song " Sealing my fate" geht es direkt weiter. Wirklich Schwächen wird man auf diesem Album nicht finden, manchmal kommt einem der Gedanke es klingt schon fast zu perfekt. So komme ich quasi zu meinem einzigen Kritikpunkt an dieser Scheibe, es hat manchmal einfach den Anschein dass alles etwas zu glattgebügelt wirkt, ein paar Ecken und Kanten wären nicht schlecht gewesen, aber das ist jetzt Meckern auf hohem Niveau. Besonders blieb mir das Titelstück "As Daylight breaks" in Erinnerung als Ballade vom Album wo Sänger Urban Breed zeigt dass er auch perfekt ruhige Songs bestens beherrscht. Auf der Digipack Edition ist ein Bonustrack enthalten der ein Coversong von Genisis ist, hier wird erneut das Können der Band gezeigt. Ich kann jedem der auf Bands wie Heavens Gate, Helloween, Bloodbound oder Kamelot steht dieses Album bestens empfehlen, es lohnt sich.

(Jan Heesch)