Die UK-Metal-Legende im Winter zurück in Deutschland
Zusatzkonzerte in Frankfurt, Stuttgart und Oberhausen wegen grosser Nachfrage bestätigt
UFO Special Guest in Stuttgart und Oberhausen.
Aktuelles Album "Redeemer of Souls" im Handel
Tickets ab 1. Juli im Presale erhältlich
Nachdem sie ihre treuen Fans im Mai/Juni 2015 auf den beiden Solo-Konzerten in Berlin und Hamburg sowie auf den Festivals Rock im Revier in Gelsenkirchen und Rockavaria in München begeistern konnten, kehren Judas Priest aufgrund der großen Nachfrage ein weiteres Mal für zurück nach Deutschland zurück: Rob Halford, Glenn Tipton, Richie Faulkner, Ian Hill und Scott Travis spielen am 18. November 2015 in Frankfurt in der Jahrhunderthalle, am 14. Dezember 2015 in Stuttgart in der Hanns-Martin-Schleyer-Halle und am 17. Dezember 2015 in Oberhausen in der König-Pilsner Arena. In Stuttgart und Oberhausen fungieren die ebenfalls britischen Hardrocker UFO um Sänger Phil Mogg als Special Guest, die in den Siebzigern mit Hits wie "Doctor Doctor", "Lights Out" oder "Only You Can Rock Me" zu einer der einflussreichsten Bands des Genres wurden und zurzeit mit ihrem 22. Album "Conspiracy Of Stars" touren. Tickets gibt es ab Freitag, den 3. Juli 2015 an den bekannten Vorverkaufsstellen, unter der bundesweiten Tickethotline 01806/999 000 555 (0,20 EUR/Verbindung aus dem dt. Festnetz/max. 0,60 EUR/Verbindung aus dem dt. Mobilfunknetz) oder im Internet unter www.ticketmaster.de. Bereits ab Mittwoch, den 1. Juli bieten die Ticketanbieter Myticket, Ticketmaster sowie CTS Eventim Presales an.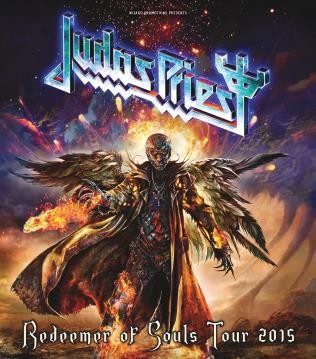 Es gibt nur eine geringe Anzahl von Bands, die so viel erreicht und so viele Musiker beeinflusst haben wie Judas Priest. Allein die Anzahl der erfolgreichen Gruppen, die sich nach bekannten Judas Priest-Songs benannt haben, spricht Bände. Mit ihrem 17. Studioalbum "Reedemer Of Souls", dem ersten seit "Nostradamus" von 2008, haben sie die eigene Messlatte erneut locker übersprungen und einen weiteren Klassiker in ihrer langen Karriere produziert. Und der Erfolg gibt ihnen Recht: Platz 3 in den deutschen und Platz 6 in den amerikanischen Charts bedeuteten im Juli 2014 ein großartiges Comeback. Nach der Welttournee 2011/12, die eigentlich eine Zäsur im Judas Priest-Kosmos darstellen sollte, entschloss sich die Band, ein weiteres Kapitel in der 40-jährigen Historie der Heavy Metal-Pioniere aus Birmingham/England einzuläuten. "Reedemer Of Souls" entstand erstmals durch die Zusammenarbeit von Sänger Rob Halford, Gründungsmitglied Glenn Tipton und Neuzugang Richie Faulkner, der den langjährigen Gitarristen KK Downing 2011 ersetzte.
Judas Priests Debütalbum "Rocka Rolla" erschien 1974. Seit dem Klassiker "British Steel" (1980) liefern sie als Begründer des klassischen Heavy Metal weitere Genre-Meilensteine: "Screaming For Vengeance" (1982) und "Painkiller" (1990) stehen in jeder Metal-Sammlung dieser Welt. Die Engländer sind nicht nur verantwortlich für den prägenden Lederlook vieler anderer Bands, sie haben auch unzählige Klassiker geschrieben: Ohne "Breaking The Law", "You´ve Got Another Thing Coming" oder "Living After Midnight" findet auch 2015 keine Rock- und Metal-Party statt. Bis heute haben Judas Priest weltweit über 45 Millionen Alben verkauft.
Passend zum 40. Jahrestag ihres Debütalbums zeigen die Metal-Veteranen mit "Reedemer Of Souls" wieder einmal, wie zeitlos Heavy Metal sein kann und dass sie noch lange nicht gewillt sind, in den Ruhestand zu wechseln oder ihre berühmte Bühnen-Harley Davidson in der Garage zu verstauen. Bis heute haben Judas Priest weltweit mehr als 45 Millionen Platten verkauft.
Termine
23.07.2015 - E - Barcelona, Rock Fest BCN
24.07.2015 - E - Barcelona, Rock Fest BCN
25.07.2015 - E - Barcelona, Rock Fest BCN
26.07.2015 - E - Madrid, AUDITORIO MIGUEL RIOS DE RIVAS
29.07.2015 - HU - Székesfehérvár, Fezen Festival
30.07.2015 - A - Graz, SEE-ROCK FESTIVAL
01.07.2015 - D - Wacken, Wacken Festival
18.11.2015 - D - Frankfurt, Jahrhunderthalle
23.11.2015 - UK - Bradford, St Georges
24.11.2015 - UK - Glasgow, Barrowlands
26.11.2015 - UK - Wolverhampton, Wolverhampton Civic
28.11.2015 - UK - ApolloManchester,
30.11.2015 - UK - Portsmouth, Guildhall
01.12.2015 - UK - London, Brixton Academy
04.12.2015 - S - Karlstad, Lofbergs Arena
05.12.2015 - S - Stockholm, Ericsson Globe
07.12.2015 - EST - Tallin, Saku Arena
08.12.2015 - LIT - Vilnius, Siemens Arena
10.12.2015 - PL - Gdansk, Ergo Arena
12.12.2015 - CZ - Brno, Rondo Arena
14.12.2015 - D - Stuttgart, Schleyerhalle*
16.12.2015 - B - Brussels, Vorst Nationaal
17.12.2015 - D - Oberhausen, Arena*
*w/ Special Guest: UFO