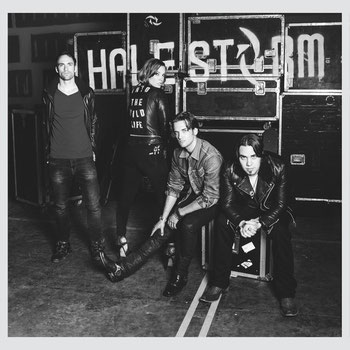 VÖ: 10.04.2015

Label: Atlantis Records

Format: CD

Tracklist:

01. Scream (4:01)
02. I Am The Fire (3:37)
03. Sick Individual [Explicit] (3:27)
04. Amen (2:58)
05. Dear Daughter (4:46)
06. New Modern Love (3:38)
07. Mayhem (3:36)
08. Bad Girl's World (5:08)
09. Gonna Get Mine [Explicit] (2:57)
10. The Reckoning (3:44)
11. Apocalyptic (3:13)
12. What Sober Couldn't Say (3:33)
13. I Like It Heavy [Explicit] (4:54)
14. Jump The Gun (3:08)
15. Unapologetic (4:07)

HALESTORM sind in den Staaten längst zu einer festen Größe in der Rockszene geworden. Auch hier in Deutschland konnte die Band um die Geschwister Hale (Lzzy, Gesang und Arejay, Drums) in den letzten Jahren mit ihren Alben punkten. Die ersten Platten waren zwar auch nicht schlecht, nur fehlte das gewisse etwas noch. Doch nun sind die Musiker hinter HALESTORM erwachsen und reifer geworden, was man am neuen Album "Into The Wild Life" sehr gut hören kann, denn die Platte ist ein ansprechendes Stück Rock geworden. Zwar ist der Opener "Scream" etwas sperrig und ziemlich modern ausgefallen, allerdings hat er durchaus seinen Reiz. Die erste wirkliche Veränderung merkt man bei "I Am The Fire", bei dem die Band zeigt was sie mit den Jahren gelernt hat. Dass sie zu so einem kraftvollen Stück in der Lage sind, hätte man gar nicht vermutet. Doch damit haben HALESTORM ihr Pulver noch lange nicht verschossen. Weiter geht es mit Tracks wie "Sick Individual", "New Modern Love", "Mayhem" oder "I Like It Heavy", bei denen die komplette Band zeigt, dass sie Vollblutmusiker sind. Vor allem die kraftvolle Stimme von Lzzy Hale soll an dieser Stelle erwähnt werden, die nun jegliche Zweifler verstummen lässt. Die Scheibe wurde live, sozusagen einem Rutsch aufgenommen, ohne dabei blank poliert zu werden. Und das hört man dem Sound auch an, der dadurch dreckig und mit Ecken und Kanten rüberkommt und nicht glattgebügelt wurde. HALESTORM haben mit diesem Album alles richtig gemacht und und sind die Zeit wert die man mit dem Hören verbringt.

(Jan Heesch)