​Am 28. August wird das neue MAD MAX Album "Thunder, Storm and Passion" das Licht der Welt erblicken! Das gute Stück kommt als hochwertiges Digipak und enthällt neben der Audio CD mit 12 re-recordeten Klassikern der Band eine Bonus Live CD
"Live at Bang Your Head Festival 2014"
. Das komplette Tracklisting findet sich weiter unten.
Als neues Bandmitglied begrüssen wir Thomas 'Hutch' Bauer am Bass. Von den Live Qualitäten dieses Line Ups kann man sich bald selbst überzeugen - eine Tour ist in Vorbereitung.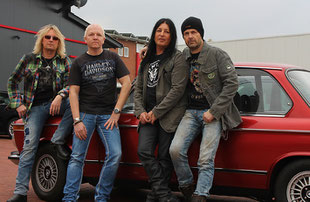 INFO:
Inspiriert durch den 'New Wave of British Heavy Metal' machte sich die Münsteraner Band MAD MAX 1982 auf, ihre Leidenschaft in die Welt zu tragen. Heavy Metal sollte es sein, und so ist es bis jetzt. Man unterschrieb damals als eine der ersten Bands bei dem gerade neu gegründeten Label 'Roadrunner Records' einen weltweiten Deal über drei Alben und war somit in bester Gesellschaft mit Acts wie Metallica, King Diamond oder Lee Aaron. Von da an gab es internationale Gastspiele u.a. als Support von Uriah Heep,  Stryper,  Pretty Maids oder Yngwie Malmsteen sowie einen legendären Auftritt beim "Dynamo Open Air" in Eindhoven.
Nachdem mit SPV im neuen Jahrtausend ein neuer Deal unterschrieben wurde, folgten Auftritte bei großen internationalen Festivals wie Rocklahoma, Wacken, Rock of Ages oder dem Bang Your Head sowie zwei ausgedehnte Europatourneen mit Axel Rudi Pell.
Nun kehren MAD MAX zu ihren Wurzeln zurück, denn genau aus dieser mehr als erfolgreichen Zeit 1984-87 rekrutiert die Band nun ihr Best of Album:

Thunder (Rollin' Thunder)
 Storm (Stormchild)
 and 
Passion (Night of Passion)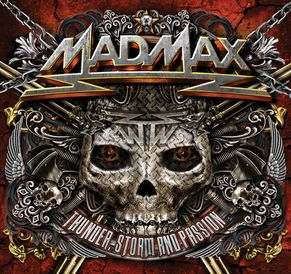 Tracklist:
CD 1 (Re-Recorded Classics)
01. Fly Fly Away 04:33
02. Losing You 04:08
03. Rollin`Thunder 04:24
04. Thoughts Of A Dying Man 05:58
05. Never Say Never 03:16
06. Lonely Is The Hunter 05:40
07. Stormchild 03:46
08. Heroes Die Lonely 03:37
09. Burning The Stage 05:35
10. Wait For The Night 04:21
11. Night Of Passion 03:52
12. Hearts On Fire 03:45
CD 2 (Bonus CD "Live at Bang Your Head Festival 2014")
01. Burning The Stage 05:23
02. Night Of Passion 03:53
03. Rolling Thunder 05:03
04. Wait For The Night 04:40
05. Lonely Is The Hunter 06:24
06. Never Say Never 03:52
07. Thoughts Of A Dying Man 06:19
08. Fox On The Run 06:25