Die britischen Extrem Metal Ikonen CARCASS werden diesen Herbst eine spezielle Edition ihres aktuellen Studioalbums »Surgical Steel« veröffentlichen. Die "Complete Edition" wird neben dem kompletten »Surgical Steel« Album auch alle fünf Songs der »Surgical Remission / Surplus Steel« EP enthalten.

»Surgical Steel - Complete Edition« wird am 30. Oktober 2015 auf CD und Digital erscheinen. Auf Vinyl wird die Edtion dann am 20. November 2015 veröffentlicht.
Der VVK hat bereits begonnen:  http://nblast.de/CARCASSSurgicalSteelCE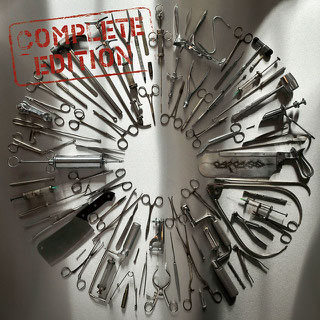 Die Tracklist liest sich wie folgt:
01. 1985
02. Thrasher's Abbatoir
03. Cadaver Pouch Conveyor System
04. A Congealed Clot Of Blood
05. The Master Butcher's Apron
06. Noncompliance to ASTM F899-12 Standard
07. The Granulating Dark Satanic Mills
08. Unfit For Human Consumption
09. 316L Grade Surgical Steel
10. Captive Bolt Pistol
11. Mount Of Execution
Bonus:
12. A Wraith In The Apparatus
13. Intensive Battery Brooding
14. Zochrot
15. Livestock Marketplace
16. 1985 (Reprise)

Alle Songs entstanden während der »Surgical Steel« Sessions, die von Colin Richardson (NAPALM DEATH, BOLT THROWER, GOREFEST, CANNIBAL CORPSE, SINISTER, RODRIGO Y GABRIELA) produziert und von Andy Sneap (MEGADETH, ACCEPT, EXODUS, TESTAMENT) gemischt und gemastert wurde.
www.facebook.com/officialcarcass

---
CARCASS spielen diesen Herbst »Deathcrusher Tour 2015« mit NAPALM DEATH, OBITUARY, VOIVOD und HEROD
Die exhumierten britischen Extreme Metal-Legenden CARCASS kündigen stolz an, dass sie auf der mit Spannung erwarteten »Deathcrusher Tour 2015« mit NAPALM DEATH, OBITUARY, VOIVOD und HEROD spielen werden. Dieses lautstarke Line-up wird im Herbst in Europa einfallen.
CARCASS-Frontmann Jeff Walker ließ Folgendes zur Ankündigung verlauten: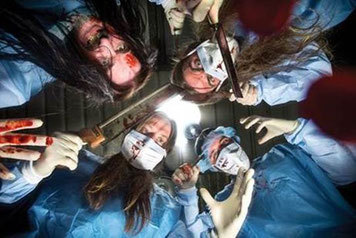 "Nachdem die US-Tour mit OBITUARY und die Australien- und Neuseeland-Tour mit NAPALM DEATH vorüber waren, dachten wir, dass es cool wäre, beide Touren zu kombinieren und etwas Besonderes zu schaffen… und da NAPALM DEATH erst kürzlich mit VOIVOD in den USA tourten, warum sollten wir diese also nicht auch einladen? CARCASS wollten seit geraumer Zeit eine Europa-Tour auf die Beine stellen, wir haben auf die perfekte Gelegenheit gewartet und DIESE ist es! Kratzt Eure Cents für die härteste Tour des Herbsts zusammen und seht sie LIVE, bevor sie - von Handy-Kameras mit niedriger Qualität gefilmt - auf YouTube landet."
Ihr könnt CARCASS und das gesamte »Deathcrusher«-Line-up an folgenden Terminen sehen:
w/ Special Guest, OBITUARY, VOIVOD, HEROD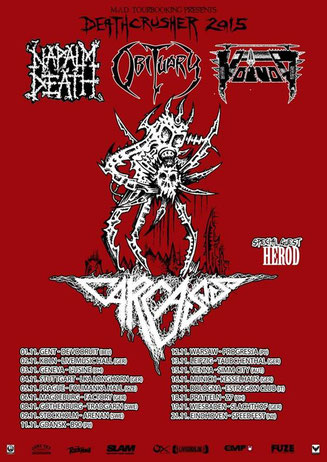 23.10.2015 - UK - Wolverhampton, Wulfrun Hall
24.10.2015 - UK - Glasgow, Barrowlands
25.10.2015 - UK - Belfast, Limelight 1
26.10.2015 - IRL - Dublin, Olympia
27.10.2015 - UK - Bristol, Motion
28.10.2015 - UK - Newcastle, O2 Academy
29.10.2015 - UK - London, The Forum
30.10.2015 - UK - Manchester, Ritz
w/ NAPALM DEATH, OBITUARY, VOIVOD, HEROD
01.11.2015 - B - Gent, De Vooruit
02.11.2015 - D - Köln, Live Music Hall
03.11.2015 - CH - Geneva, L'Usine
04.11.2015 - D - Stuttgart, LKA Longhorn
05.11.2015 - CZ - Prag, Folimanka Hall
06.11.2015 - D - Magdeburg, Factory
08.11.2015 - S - Götenborg, Tradgar'n
09.11.2015 - S - Stockholm, Arenan
11.11.2015 - PL - Gdansk, B90
12.11.2015 - PL - Warsaw, Progresja
13.11.2015 - D - Leipzig, Täubchenthal
15.11.2015 - A - Wien, Simm City
16.11.2015 - D - München, Kesselhaus
17.11.2015 - I - Bologna, Estragon Club
18.11.2015 - CH - Pratteln, Z7
19.11.2015 - D - Wiesbaden, Schlachthof
21.11.2015 - NL - Eindhoven, Speedfest

www.facebook.de/officialcarcass