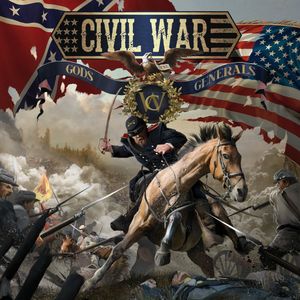 VÖ: 08.05.2015

Label: Napalm Records

Format: CD

Tracklist:

01. War Of The World (5:13)
02. Bay Of Pigs (5:34)
03. Braveheart (3:23)
04. The Mad Piper (4:58)
05. USS Monitor (3:41)
06. Tears From The North (4:18)
07. Admiral Over The Oceans (4:49)
08. Back To Iwo Jema (5:12)
09. Schindler's Ark (5:31)
10. Gods And Generals (5:21)
11. Knights Of Dalecarlia (Bonus Track) (4:30)
12. Colours Of My Shield (Bonus Track) 3:20)

CIVIL WAR gründeten sich im Jahre des Herrn 2012 und setzten sich aus vier Ex-SABATON-Mitgliedern, den beiden Gitarristen Oskar Montelius und Rikard Sundén, Drummer Daniel Mullback sowie Keyboarder Daniel Mÿhr, zusammen. Dazu kamen noch ASTRAL DOORS-Sänger Patrik Johansson und VOLTURYON-Bassist Stefan Eriksson. Letzterer und auch Oskar sind seit 2015 nicht mehr dabei. Oskar Montelius wurde durch Petrus Granar ersetzt, während für Stefan offiziell noch kein Ersatz gefunden wurde.

Nach der Abspaltung von Sabaton - deren Einflüsse und Parallelen noch heute zu hören sind - veröffentlichten Civil War im Juni 2013 ihr Debüt "The Killer Angels". Eine sanfte Harfe läutet das vertonte Epos ein, das den Zuhörer - wie sollte es auch anders sein - wieder einmal an sämtliche Kriegsschauplätze aus vergangenen Zeiten befördert. Aber auch aktuellere Themen aus dem letzten Jahrhundert werden thematisch aufgegriffen. So ist es nicht verwunderlich, dass es von der Schweinebucht in Kuba direkt nach Schottland geht, um dem größten Helden der Schotten, nämlich William Wallace, die wohlverdiente Ehre zu erweisen.

Die 10 Tracks des neuen Albums sind allesamt hörenswert und nach dem ersten Durchlauf konnte ich keinen Ausfall vorfinden. Ein Power Metal Album, so wie es sein sollte und was kaum Wünsche offen lässt. Einprägsame Melodien, prägnante Hooks, starkes Riffwerk, klasse aufeinander abgestimmte Chöre, simpel aber effektiv eingesetzte Keyboardsounds und immer wieder die kehlige aber sehr harmonische Stimme von Sänger Patrik, der jeden Refrain bravourös meistert. Gib Civil haben mit dieser CD ein Album abgeliefert, an dem kein Fan dieses Genres vorbeikommt. So ist auch ihr zweites Werk absolut empfehlenswert und lässt kaum etwas vermissen. Anspieltipps sind: der geniale Opener "War Of The World", das folgende "Bay Of Pigs", "Bravehaert" und "The Mad Piper" .

(Jan Heesch)