DEVIL YOU KNOW werden sich FIVE FINGER DEATH PUNCH und PAPA ROACH für eine massive Europa-Tour anschließen, die am 2. November startet. Die Tournee ist ebenfalls die erste überhaupt auf europäischem Boden für DEVIL YOU KNOW. Verpasst diese Tour nicht, wenn sie in Eure Nähe kommt.
Die Dates findet Ihr unten - über https://www.facebook.com/Devilyouknowofficial oder natürlich www.nuclearblast.de könnt ihr über sämtliche Aktivitäten der Band im Bilde bleiben.
DEVIL YOU KNOW nehmen derzeit ihr ungeduldig erwartetes zweites Album mit Produzent Josh Wilbur (LAMB OF GOD, ALL THAT REMAINS, KILLER BE KILLED) auf. Die Band wird noch im November dieses Jahres eines der heftigsten Metal-Veröffentlichungen 2015 über Nuclear Blast Entertainment herausbringen.
Howard Jones (vocals) kommentiert: "We are beyond excited to announce we will be coming to see all our European metal brothers and sisters for a massive tour this November. The best part is that we will be there alongside the mighty FIVE FINGER DEATH PUNCH and PAPA ROACH! We've been anxiously waiting to get back to Europe for our first ever full tour, and now thanks to our good friends in FFDP it is finally happening. We will be doing meet and greets each night after our set at the merch booth and look forward to meeting as many of you as possible. Please be sure to come and say hello.
Right now we are in the studio recording our new full-length album, so this tour is the perfect opportunity for us to feature some brand new songs live and also beware, as we might have another very special surprise at some of these shows. Get ready Europe, it's game on!
Also, we will be doing only five, very special one-off headlining shows across North America during the COAL CHAMBER and FEAR FACTORY tour. If you are in those areas (see dates below), you don't want to miss out on these intimate, extended set live shows. It's going to be a rager. See you all very soon."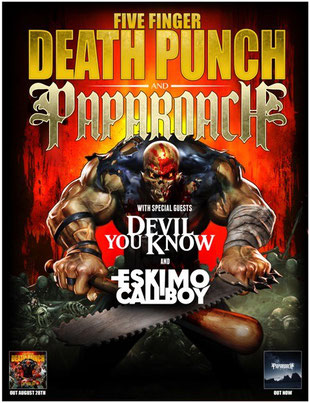 FIVE FINGER DEATH PUNCH & PAPA ROACH – EUROPE 2015
DEVIL YOU KNOW
ESKIMO CALLBOY (select dates only)
02.11.2015 - FIN - Helsinki, Ice Hall Black Box*
04.11.2015 - S - Stockholm, Hovet*
05.11.2015 - NO - Oslo, Sentrum
06.11.2015 - DK - Kopenhagen, Tap1
08.11.2015 - D - Hannover, Swiss Life Hall**
09.11.2015 - D - Leipzig, Arena**
11.11.2015 - D - Stuttgart, Porsche Arena**
13.11.2015 - D - Frankfurt, Jahrhunderthalle**
17.11.2015 - NL - Amsterdam, Zenith**
21.11.2015 - A - Wien, Gasometer
25.11.2015 - D - Düsseldorf, MEH**
26.11.2015 - B - Brüssel, Forest National Club
28.11.2015 - UK - London, Wembley Arena***

(*) No Papa Roach
(**) Featuring Eskimo Callboy
(***) With Special Guests
www.facebook.com/devilyouknowofficial