Die BUTCHER BABIES sind zurück und haben ein neue Scheibe im Gepäck! Das am 21. August erscheinende Album ist das bisher schroffste und aggresivste was sie bisher geschrieben haben. Das mit Spannung erwartete "Take It Like A Man" wurde in den Hollywood Hills mit Produzent Logan Mader (Five Finger Death Punch, Gojira) aufgenommen.
Die BUTCHER BABIES befinden sich aktuell auf Europa Tour und werden danach mit Battlecross und Gwar durch die USA touren. Hier gibt es weitere Infos dazu: www.facebook.com/butcherbabiesmusic

Einen ersten neuen Track gibt es hier: http://smarturl.it/monstersball

"We all come from different places and backgrounds, but every member of this band had to fight to be the person he or she is today," so co-vocalist Carla Harvey. "That's the whole basis for the record. It's not a gender thing. It's the inner strength you have to find in order to pull your boots up and keep moving forward, whatever the situation may be."

Shepherd und Harvey sind auf diesem Album auch so offen wie nie zuvor. Unverholen, brutal, und (manchmal)  angriffslustig. Ehrlichkeit war die einzige Regel!

"You have to dig to get that emotion out," seufzt Harvey. "Metal heads can sense authenticity. They know when you're real. Everything we write comes straight from the heart and our own experiences. It's not cookie cutter bullshit."
Diese Offenheit hat bereits unzählige Fans in "Gläubige" gewandelt. "Take It Like a Man" vertritt eine inspirierendes letztes Wort. "We want to coerce feeling," gibt Shepherd zu Wort. "If you're a musician who does that, you've succeeded. We just want to inspire anyone who listens to us—and melt their faces off."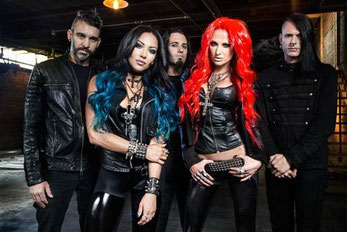 BUTCHER BABIES live 2015:

19.06.2015 - B - Dessel, Graspop Metal Meeting
20.06.2015 - F - Clisson, Hellfest
07.06.2015 - F - Lille, Le Splendid*
08.06.2015 - F - Besancon, La Rodia*
09.06.2015 - D - Nürnberg, Hirsh
10.06.2015 - D - Aschaffenburg, Colos-Saal
11.06.2015 - CZ - Ostrava, Barrak in Ostrava*
12.06.2015 - CZ - Prag, EXIT-US
13.06.2015 - SK - Bratislava, Randall*
15.06.2015 - A - Dornbirn, Conrad Sohm*
16.06.2015 - D - Karlsruhe, Substage*
18.06.2015 - F - Paris, Divan Du Monde
20.06.2015 - SLO - Tolmin, Metaldays 2015
22.06.2015 - CH - Pratteln, Z7
23.06.2015 - F - Colmar, Le Grillen
24.06.2015 - I - Pavia, Fuorionda
25.06.2015 - A - Velden, Bluesiana
28.06.2015 - D - Mannheim, Alte Seilerei
29.06.2015 - D - München, Free & Easy Festival
30.06.2015 - NL - Eindhoven, The Jack
31.06.2015 - D - Wacken, Wacken Open Air
*supporting Fear Factory

BUTCHER BABIES are:
Heidi Shepherd- vocals
Carla Harvey- vocals
Henry Flury- guitar
Jason Klein- bass
Chrissy Warner- drums
BUTCHER BABIES online:
http://www.butcherbabiesofficial.com

http://www.facebook.com/ButcherBabiesMusic