ORPHANED LAND, die Vorreiter des Nahost Metal, freuen sich ihre Daten der anstehenden Europa Unplugged Tour bekannt geben zu können.
Sänger und Frontmann Kobi Farhi sagt dazu: "Anyone who have seen already an unplugged show of Orphaned Land knows that it's an unforgettable experience. We are super excited to finally have our first ever acoustic tour accompanied by the Stimmgewalt male/female choir. It's always nice to strip our songs with different arrangements and we are eager to go back on the roads! I've waited a long time to take my "Jesus white dress" out of the closet and I guarantee it is going to be a holy musical experience, something to remember. See you all very soon!"
Alle die, die bisher noch kein Akustikset von ORPHANED LAND gesehen haben, sollten dies jetzt nachholen! Seht euch auch die Liveaufnahmen von "Let The Truce Be Known (Unplugged" an, die im Jahr 2013 in Berlin aufgezeichnet wurden. Die Lyrics und die Story basieren auf "Christmas Truce" aus dem ersten Weltkrieg.
Seht euch das Video hier an: https://www.youtube.com/watch?v=cPWeeJgzDAI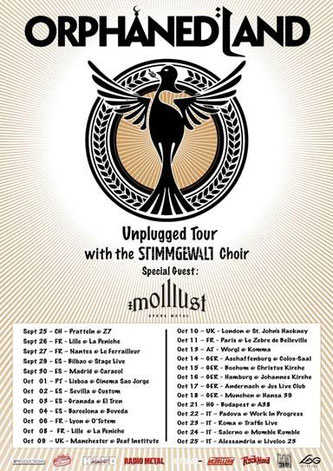 ORPHANED LAND
19.06.2015 - NL - Amstelveen, P60
20.06.2015 - B - Dessel, Graspop Festival 2015
28.06.2015 - I - Gavirate Va, Liffrock Festival
01.08.2015 - CZ - Ostrava, Ostrava v plamench
07.08.2015 - E - Villena, Leyandas Del Rock
09.08.2015 - P - Vagos, Vagos Open Air
04.09.2015 - D - Loreley, In Extremo 20th Anniversary Fest
04.09.2015 - D - Loreley, In Extremo 20th Anniversary Fest
05.09.2015 - F - Tours, Mfest

UNPLUGGED TOUR 2015
25.09.2015 - CH – Pratteln, Z7
26.09.2015 – F - Lille, La Peniche
27.09.2915 – F - Nantes, Le Ferrailleur
29.09.2015 – E - Bilbao, Stage Live
30.09.2015 – E - Madrid, Caracol
01.10.2015 – P - Lissabon, Cinema Sao Jorge
02.10.2015 – E - Sevilla, Custom
03.10.2015 – E - Granada, El Tren
04.10.2015 – E - Barcelona, Boveda
06.10.2015 – F - Lyon, O'Totem
08.10.2015 – F - Lille, La Peniche
09.10.2015 – UK - Manchester, Deaf Institute
10.10.2015 – UK - London, St. John's Hackney
11.10.2015 – F - Paris, Le Zebre de Belleville
13.10.2015 – F - Wörgl, Komma
14.10.2015 – D - Aschaffenburg, Colos-Saal
15.10.2015 – D - Bochum, Christus Kirche
16.10.2015 – D - Hamburg, Johannes Kirche
17.10.2015 – D - Andernach, Juz Live Club
18.10.2015 – D - München, Hansa 39
21.10.2015 – HU - Budapest, A38
22.10.2015 – I - Padova, Work In Progress
23.10.2015 – I - Rom, Traffic Live
24.10.2015 – I - Salerno, Mumble Rumble
25.10.2015 – I - Alessandria, Liveloo 23
ORPHANED LAND online:
http://www.facebook.com/OrphanedLandOfficial