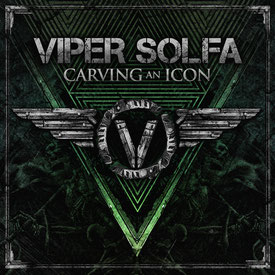 VÖ: 20.02.2015

Label: Massacre Records

Format: CD

Tracklist:

01. Deranged
02. Funeral Of Kings
03. Carving An Icon
04. The Toxic Thousands
05. Vulture Kingdom
06. Call For Silence
07. War Of Zion
08. The Viper Legion
09. Whispers And Storms
10. Shahanshah

Eine neue Band aus bekannten Gesichtern, Heimatland: Norwegen, viele Einflüsse prägen das Konzept um es für dieses Album umzusetzen.Ob es gelungen ist werden wir bald feststellen.

Wer steckt nun hinter dem Namen Viper Solfa? Trail of Tears Mastermind und Gründer Ronny Thorsen, Morfeus (Mayhem, Limbonic Art), Sphinx (Ram-Zet, Eternal Tears Of Sorrow) sowie die ehemaligen Trail Of Tears Mitglieder Endre Moe und Bjørn Dugstad Rønnow. Angesichts dieser Besetzung ist es eigentlich nur zu logisch, dass wir es hier mit Dark Metal zu tun haben. Bei dieser Konzentration an erfahrenen Musikern ist es ebenfalls logisch, daß man nicht lange auf ein Album warten mußte, Anfang 2015 wurde es dann über Massacre veröffentlicht, obwohl man sich erst 2013 formierte.

Viper Solfa präsentieren sich auf "Carving An Icon" härter als vermutet. Ein moderner Mix aus dem Sound der Bands, in denen die Musiker selbst spielten und spielen. Technisch ist man mit allen Wassern gewaschen und kann schon aus diesem Grund in die Vollen gehen. "Carving An Icon" ist daher kurzweilig, vollgestopft mit Samples sowie Effekten und tönt trotz der Dark-Element & dem weiblichen Gesang nicht kitschig. Inmitten der Orchestrierung und musikalischen Experimenten tauchen immer wieder typische Black Metal Attacken auf, die für den dringend benötigten Härtegrad sorgen.

Auch wenn eine geballte Ladung Erfahrung und ein Knaller-Line-up hinter Viper Solfa stehen, muss Musik - wie oben schon erwähnt - Spuren hinterlassen und dabei wenn möglich Herz oder Seele erreichen. Das schaffen Viper Solfa auf ihrem Debüt nur selten. Möglicherweise muss eine Band aber auch über 3-4 Jahre zusammenwachsen, um diese komplexe Musik mit Leben zu erfüllen. Ein passables Debüt ist "Carving An Icon" aber dennoch und ist für Fans der ursprünglichen Bands ein reinhören wert.

(Jan Heesch)