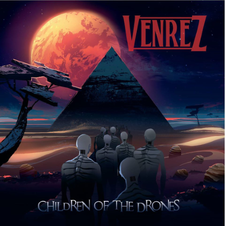 VÖ: 24.04.2015

Label: Monarch Music Group

Format: CD

Tracklist:

01. Hang The Predator
02. Children Of The Drones
03. Devil's Due
04. Salvation
05. Mist Of Mercy
06. Deep
07. 20th Reason
08. Reflection
09. Spin The Top
10. Sacred Blood

Venrez bestehen im Kern aus Namensgeber, Texter und Sänger Steven Berez sowie Jason Womack, der die Songs alleine schreibt. Komplettiert wird das Live-Lineup von Nico D´Arnese am Bass und Ed Davis an den Drums. Was man zugeben muß, ihre Musik zündet nicht beim ersten Mal. Der Sound ist dicht, verzerrt, hypnotisch. Auf eine bestimmte Art und Weise ist er zugleich surreal aber auch klassisch-bodenständig.
Venrez spielen doch recht im Alternativebereich. Das geht bis in die Inhalt der Texte hinein. Die sind nachdenklich, sozial gesinnt und abwechslungsreich. Wenn der Alternitivklang nicht vorherrscht finden wir uns im Bereich Stoner Rock und Doom Metal wieder.
"Children Of The Drones" ist ein Album in dem viel Zeitgeist steckt,man kann es in ihrem Video zum Opener "Hang The Preditor" gut erkennen, es geht um Krieg und Terror und darum, dagegen anzugehen.
Wenn ihr dieses Album hört werdet ihr belohnt mit kunstvoll verfassten Songs, in denen viel mehr drin ist, als man zuerst glaubt. Etwas Vergleichbares ist schwer zu finden.

(Jan Heesch)