Gute Neuigkeiten für alle deutschen und bulgarischen PYOGENESIS Fans, denn wir haben frisch bestätigte Tourdates für euch! Unter anderem spielen unsere Jungs einige Shows zusammen mit Life Of Agony: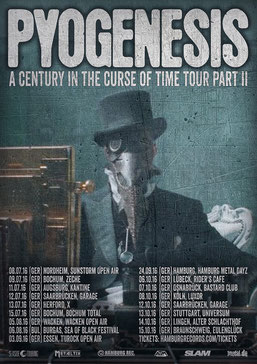 08.07.2016 - D - Nordheim, Sunstorm Open Air
09.07.2016 - D - Bochum, Zeche*
11.07.2016 - D - Augsburg, Kantine*
12.07.2016 - D - Saarbrücken, Garage*
13.07.2016 - D - Herford, X*
15.07.2016 - D - Bochum, Bochum Total
05.08.2016 - D - Wacken, Wacken Open Air
06.08.2016 - BUL - Burgas, Sea Of Black Festival
03.09.2016 - D - Essen, Turock Open Air
24.09.2016 - D - Hamburg, Markthalle
06.10.2016 - D - Lübeck, Rider's Cafe
07.10.2016 - D - Osnabrück, Bastard Club
08.10.2016 - D - Köln, Luxor
12.10.2016 - D - Saarbrücken, Garage
13.10.2016 - D - Stuttgart, Universum
14.10.2016 - D - Lingen, Alter Schlachthof
15.10.2016 - D - Braunschweig, Eulenglück
* auf Tour mit LIFE OF AGONY
---
PYOGENESIS unterschreiben bei AFM Records
Das Warten seit dem letzten und bis dato erfolgreichsten Album "She Makes Me Wish I Had A Gun" von 2002 hat nun also ein Ende! Nach mehr als 13 Jahren veröffentlichen PYOGENESIS am 14. August 2015 ihr neues Studioalbum bei AFM Records.
Flo Von Schwarz (Pyogenesis) dazu: "Das Schöne an Metal sind die Persönlichkeiten: Ich kenne und schätze Jochen (Richert, AFM Records) schon seit 20 Jahren und habe mit ihm und seiner AFM-Belegschaft die richtige Wahl getroffen."
24 Jahre PYOGENESIS, das sind weltweite Tourneen, Plattenveröffentlichungen in den entlegensten Ländern der Erde und Fans über den ganzen Globus verteilt. In dieser Zeit waren Pyogenesis in Mexiko in den Importcharts auf Platz 1, haben in Ungarn vor 560.000 Leuten gespielt, waren bei Rock Am Ring und Rock im Park, haben die MTV und VIVA-Hitlisten angeführt und ganz nebenbei noch Anfang der 1990er Jahre den Gothic Metal mitbegründet.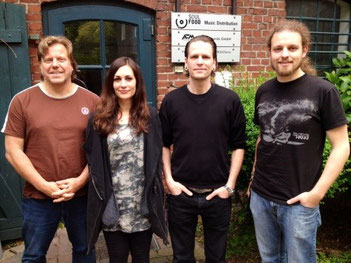 24 Jahre PYOGENESIS sind aber auch 13 Jahre ohne neues Album und 10 Jahre keine Konzerte. Doch diese kleine Pause findet jetzt ein Ende: Nach ihrer ausverkauften Comeback-Show in Rumänien, veröffentlicht die Band im Sommer 2015 nun ihren von Fans lang erwarteten sechsten Longplayer. Der Vierer um Sänger und Kopf Flo V. Schwarz kehrt dabei zu seinen musikalischen Wurzeln zurück und veröffentlicht mit "A Century In The Curse Of Time" nicht nur das vielleicht härteste, sondern auch epischste und anspruchsvollste und das erste Konzept-Album der Bandgeschichte. Es handelt vom Wandel der Gesellschaft des 19. Jahrhunderts unter dem Einfluss der Industrialisierung, der Dampfmaschine, des aufkommenden Bürgertums und erster Science Fiction Literatur, wie der von Jules Verne.
Passend zum Veröffentlichungsdatum treten PYOGENESIS als eine der Überraschungs-Sensationen auf dem diesjährigen SUMMER BREEZE Festival (12. bis 15.08.) in Dinkelsbühl auf.
Ein Comeback in mehrfacher Hinsicht also.