Mitte Mai 2015 verkündeten DAMNATION ANGELS den Weggang ihres Sängers Per Fredrik "PelleK" Åsly. Sie machten sich sofort auf die Suche nach einem neuen Sänger bzw. einer neuen Sängerin und teilten im Zuge dessen Videos von den BewerberInnen auf ihrer facebook Seite.
 
Unter ihnen war Ignacio Rodriguez aus Argentinien, der auch Gitarrist und Sänger der Symphonic Progressive Metal Band Innvein ist. Er wird DAMNATION ANGELS bei ihrer anstehenden EU Tour mit Threshold und Spheric Universe Experience im Januar 2016 tatkräftig am Mikrofon unterstützen!
 
Die Band über Ignacio: "Wir waren, ebenso wie ihr, weggeblasen von Ignacios Talent und auch wenn er derzeit noch kein festes Bandmitglied ist, schließen wir es nicht aus, ihn demnächst permanent bei der Band dabei zu haben."
 
Hier könnt ihr euch Ignacios Version von DAMNATION ANGELs Song "The Longest Day Of My Life" anhören: https://youtu.be/X7bTsWCWMeg
 
Zur kommenden Tour äußerten sich DAMNATION ANGELS wie folgt: "Wir freuen uns unglaublich, dass wir im Januar wieder zurück in Europa sein werden! Es wird die erste Tour mit 'The Valiant Fire' sein und wir freuen uns sehr, dass wir endlich Songs von diesem Album für euch spielen können. Es wird großartig werden und wir können es kaum erwarten!"
 
Alle bis dato bestätigten Termine sind unten aufgeführt.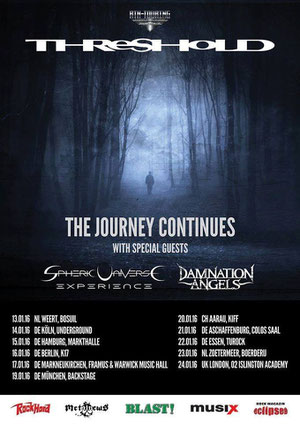 DAMNATION ANGELS Live
"The Journey Continues" Tour 2016 w/ Threshold, Spheric Universe Experience + DAMNATION ANGELS
presented by Blast!, Rock Hard, metalnews.de, musix and Eclipsed
13.01.2016 - NL - Weert, De Bosuil
14.01.2016 - D - Köln, Underground
15.01.2016 - D - Hamburg, Markthalle
16.01.2016 - D - Berlin, K17
17.01.2016 - D - Markneukirchen, F&W Music Hall
19.01.2016 - D - München, Backstage
20.01.2016 - CH - Aarau, KiFF
21.01.2016 - D - Aschaffenburg, Colos-Saal
22.01.2016 - D - Essen, Turock
23.01.2016 - NL - Zoetermeer, De Boerderij
24.01.2016 - UK - London, O2 Academy 2 Islington
http://www.damnationangels.com

http://www.facebook.com/damnationangels

http://www.twitter.com/damnationangels

http://www.youtube.com/user/DamnationAngelsUK

---
DAMNATION ANGELS auf der Suche nach einem neuen Sänger
Überraschende Neuigkeiten von DAMNATION ANGELS!
 
Die Band, die erst kürzlich ihr 2. Album "The Valiant Fire" veröffentlicht hat, geht fortan getrennte Wege mit ihrem Sänger Per Fredrik "PelleK" Åsly.
 
Folgendes Statement wurde veröffentlicht: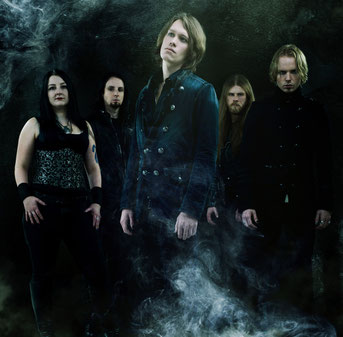 "Wir sind sehr traurig euch mitzuteilen, dass PelleK die Band nach 5 gemeinsamen Jahren verlassen wird. Es ist eine gemeinsame Entscheidung, die sich schon seit geraumer Zeit abgezeichnet hat.
Per Fredrik ist in seinem privaten Leben sehr eingespannt, so dass er sich nicht mehr voll und ganz der Band widmen kann.
Da es für die Band immer mehr zu tun gibt, brauchen wir jemanden, der viel Zeit in die Band investieren kann - und das ist bei Per Fredrik nicht mehr der Fall. Wir bleiben weiterhin befreundet und wünschen ihm für die Zukunft alles erdenklich Gute.
Natürlich sind Besetzungswechsel immer schwierig und frustrierend, aber die Zukunft von Damnation Angels stand nie auf dem Spiel.
Wir freuen uns darauf, dass nun ein neues Kapitel für die Band beginnt und ihr alle daran teilhaben werdet."
Die Band ist nun auf der Suche nach einem neuen Sänger und teilte mit, dass jeder sich bewerben kann, egal von wo er bzw. sie kommt.
 
Instrumentalversionen und Lyrics zu zwei DAMNATION ANGELS Songs sind hier verfügbar: https://www.dropbox.com/sh/009z9ge9lchafbp/AAAsrBDpjXNZ3HQP309S8Yd2a?dl=0
 
Interessenten sollten ein Video von sich aufnehmen, ini dem sie den Song performen und den YouTube Link dann an die Band schicken - entweder per Nachricht auf der fb Seite der Band (https://www.facebook.com/damnationangels) , per Email (damnation_angels@hotmail.com) oder via Tagging auf fb, wenn das Video auf dem privaten Profil gepostet wird (das Posting sollte öffentlich sein).
http://www.damnationangels.com
http://www.facebook.com/damnationangels
http://www.twitter.com/damnationangels
http://www.youtube.com/user/DamnationAngelsUK
http://open.spotify.com/artist/2eEhQPfMLCsfp86DtyMH2D