Die San Francisco Bay Area Thrash-Veteranen DEATH ANGEL haben den ersten von zwei Appetithappen zu ihrem kommenden DVD- und Live-Album-Output »a thrashumentary« in Form eines Video-Trailers veröffentlicht.
Seht ihn Euch hier an: https://www.youtube.com/watch?v=fGPso3bNiok

Die »a thrashumentary«-DVD wurde unter der Leitung von Tommy Jones (KATAKLYSM, SOILWORK, LAMB OF GOD, CARCASS, TESTAMENT) von den Videohammer Studios aufgenommen und geschnitten. Sie wird am 24. Juli via Nuclear Blast Records veröffentlicht. Das Paket wird das komplette Bonus-Live-Album »The Bay Calls For Blood - Live In San Francisco« enthalten.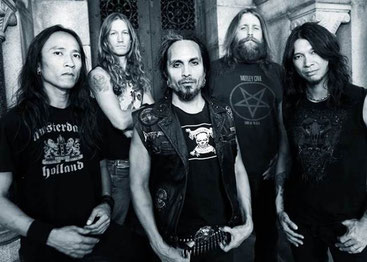 »The Bay Calls For Blood - Live In San Francisco« wird zudem exklusiv beim Nuclear Blast-Mailorder als Vinyl-Edition erhältlich sein. Auch in digitaler Form wird es zu haben sein. Das Artwork der Vinyl-Version wurde von Joey James Hernandez gestaltet.
Nicht jede Formation hat das Zeug dazu, eine Musik-Legende zu sein, aber jedes Bandmitglied ist in dazu in der Lage, alle Erwartungen zu übertreffen und die Grenzen eines Genres zu definieren. Sie schufen sieben Alben in ihrer Karriere - DEATH ANGEL waren niemals stärker und lebensnotwendiger für die Szene. Unter den jüngsten Bands, die jemals die Metal-Welt enterten, wurden DEATH ANGEL als eine der einflussreichsten Truppen bekannt, die die 80s Bay Area Thrash Metal-Szene hervorbrachte. DEATH ANGEL waren keine gewöhnliche Band, sie waren eine Familie! Ursprünglich 1982 von fünf Cousins gegründet, die übriggebliebenen Mitglieder Rob Cavestany (Gitarre) und Mark Osegueda (Gesang) eingeschlossen, erzählt »a thrashumentary« die Geschichte von der unglaublichen musikalischen Reise der Band und von einem Traum, der nach Blut lechzte.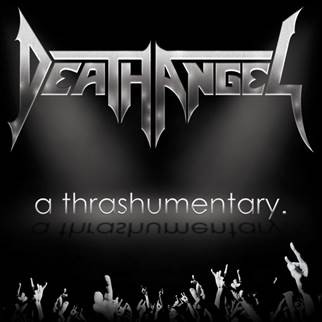 »a thrashumentary« Kapitel-Übersicht:
01. Start
02. We Grew Up In The Bay Area Thrash Scene
03. The Original Lineup Of Death Angel
04. Kill As One
05. The Ultra Violence
06. Frolic In The Park
07. Act III
08. The Accident
09. The O
10. Swarm
11. Thrash Of The Titans
12. I Like Everything About Ted
13. The Art Of Dying
14. Killing Season
15. Relentless Revolution
16. I'm Looking For Will Carroll
17. And Then Damien Came In
18. Relentless Retribution
19. Impressions Of Suecof
20. Relentless Touring
21. Thrashers
22. Death Angel Is
23. The Last Song Of The Evening
24. Credits
Extra:
25. Mistress Of Pain Live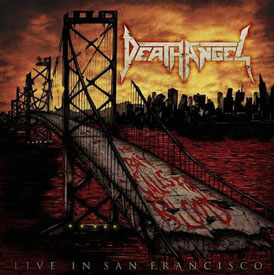 »The Bay Calls For Blood« Bonus-Live-Album & Individual LP Track List:
1. Left for Dead
2. Fallen
3. Buried Alive
4. The Dream Calls For Blood
5. Execution / Don't Save Me
6. Truce
7. Detonate
8. Bored
9. Caster Of Shame
10. Territorial Instinct/Bloodlust
Bestellt Euer Exemplar jetzt hier vor: http://nblast.de/DAThrashumentaryNB

DEATH ANGEL Sommer-Daten:
08.07.2015 - E - Zaragoza, Sala Las Armas
09.07.2015 - E - Madrid, Sala Caracol
10.07.2015 - E - La Roda (Sevilla), Acordes De Metal Festival
11.07.2015 - E - San Fulgencio (Alicante), Rock Arena
12.07.2015 - E - Barcelona, Sala Bóveda
14.07.2015 - H - Pecs, Rock Maraton
15.07.2015 - A - Wien, Chelsea
16.07.2015 - D - Balingen, Bang Your Head
17.07.2015 - D - Wiesbaden, Schlachthof
18.07.2015 - NL - Eindhoven, Dynamo Metalfest
20.07.2015 - CH - Pratteln, Z7
21.07.2015 - I - Brescia, Circolo Colony
22.07.2015 - SLO - Tolmin, Metaldays
23.07.2015 - D - München, Free & Easy Festival @ Backstage
24.07.2015 - D - Berlin, K17
25.07.2015 - D - Brande-Hörnerkirchen, Headbanger's Open Air
26.07.2015 - DK - Kopenhagen, KB18
27.07.2015 - N - Oslo, Revolver
28.07.2015 - S - Göteborg, Sticky Fingers
29.07.2015 - S - Stockholm, Debaser Medis
31.07.2015 - D - Wacken, Wacken Open Air
01.08.2015 - NL - Scheveningen, Schollenpop Festival
02.08.2015 - F - Éragny, Covent Garden Studios
04.08.2015 - UK - Wolverhampton, Slade Rooms
05.08.2015 - UK - Bristol, Marble Factory
06.08.2015 - UK - London, Electric Ballroom
07.08.2015 - UK - Brighton, Concorde 2
08.08.2015 - B - Kortrijk, Alcatraz Metal Festival
09.08.2015 - F - Saint Maurice De Gourdans, Sylak Festival
11.08.2015 - D - Essen, Turock
12.08.2015 - D - Dinkelsbühl, Summer Breeze

---
DEATH ANGEL enthüllen Artwork für »The Bay Calls For Blood«-Live-LP
Die Thrash-Veteranen DEATH ANGEL werden »The Bay Calls For Blood - Live In San Francisco« am 24. Juli exklusiv auf Vinyl über den Nuclear Blast Mailorder veröffentlichen. Das gute Stück wird auch in digitaler Form und als Bonus-CD mit ihrer angekündigten DVD, » a thrashumentary«, erhätlich sein. Das dazugehörende Artwork der LP-Version wurde von Joey James Hernandez gestaltet.
"Joey James Hernandez hat die meisten Designs unseres Tour-Merchs der vergangenen Jahre entworfen", kommentierte Gitarrist Rob Cavestany. "Wir lieben seinen Stil und hatten es im Gefühl, dass dieser zu unserem neuen Output passt!"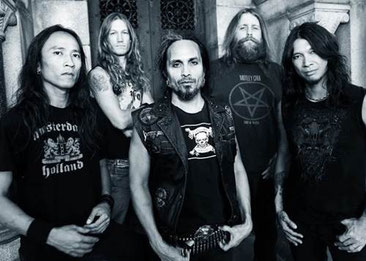 "Joey entwickelt auch das Back-Cover und das Poster, welches im Package enthalten sein wird. Wir möchten unseren Fans das gesamte Old School-Album-Erlebnis mit vielen Dingen, die man während des Hörens betrachten kann, bieten: die Art, Musik auszuchecken, wie es in den Zeiten, in denen Qualität noch vor Quantität stand, üblich war!
Wir sind eine Bay Area-Band - und waren immer stolz darauf. Deshalb haben wir das Album hier aufgenommen und wollten, dass das Artwork widerspiegelt, woher wir kommen - selbstverständlich auf die brutale Art! Es zollt den Fans aus unserer Heimat Tribut. Die Stadt hat sich enorm entwickelt, seit wir als Kinder hier aufgewachsen sind. Unglücklicherweise haben Parasiten-Schwärme San Francisco wie eine Krankheit befallen und saugen ihr auf viele Arten das Leben aus. Ich habe mir ein Bild vor Augen geführt, das die Situation nach der Ausrottung dieser Dot-Com-Generation darstellt.
Das Frontcover stellt eine zerfallene Bay-Brücke dar, während San Francisco im Hintergrund in Trümmern liegt. Der unheilvolle Himmel ist mit feurigen Farbtönen versehen, während das Wasser blutrot gefärbt ist. Der Titel ist mit dem Blut der Opfer geschrieben, deren Körper auf das zweite Stockwerk der Brücke hinuntergeschleift wurden, auf dem die Übeltäter den nächsten Angriff planen…"
Joey James Hernandez fügt hinzu: "Ich bin eigentlich nicht der geborene Stimmungs-Zeichner, aber als die Jungs von DEATH ANGEL bei mir anklopften, überlegte ich nicht lange und nahm die persönliche Herausforderung an. Ihre Musik und Bilder für dieses Werk erinnerten mich an 'Mad Max', 'Chernobyl Diaries', an jeden bösen Traum oder eine Vorahnung, die wir von Ausrottung, Streit und Gefahr haben und die immer noch in der Asche lauert."
Tommy Jones (KATAKLYSM, SOILWORK, LAMB OF GOD, CARCASS, TESTAMENT) von den Videohammer Studios führte bei »a thrashumentary« Regie und leitete die Aufnahmen sowie deren Bearbeitung. Das Werk wird am 24. Juli via Nuclear Blast Records veröffentlicht.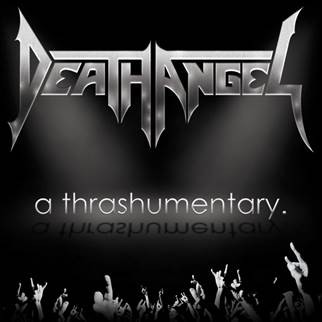 »a thrashumentary« Kapitel-Übersicht:
01. Start
02. We Grew Up In The Bay Area Thrash Scene
03. The Original Lineup Of Death Angel
04. Kill As One
05. The Ultra Violence
06. Frolic In The Park
07. Act III
08. The Accident
09. The O
10. Swarm
11. Thrash Of The Titans
12. I Like Everything About Ted
13. The Art Of Dying
14. Killing Season
15. Relentless Revolution
16. I'm Looking For Will Carroll
17. And Then Damien Came In
18. Relentless Retribution
19. Impressions Of Suecof
20. Relentless Touring
21. Thrashers
22. Death Angel Is
23. The Last Song Of The Evening
24. Credits
Extra:
25. Mistress Of Pain Live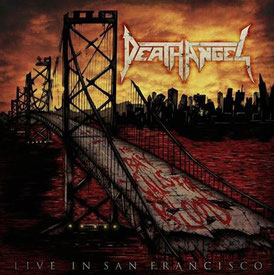 »The Bay Calls For Blood« Bonus-Live-Album & Individual LP Track List:
1. Left for Dead
2. Fallen
3. Buried Alive
4. The Dream Calls For Blood
5. Execution / Don't Save Me
6. Truce
7. Detonate
8. Bored
9. Caster Of Shame
10. Territorial Instinct/Bloodlust
Bestellt Euer Exemplar jetzt hier vor: http://nblast.de/DAThrashumentaryNB

DEATH ANGEL Sommer-Daten:
08.07.2015 - E - Zaragoza, Sala Las Armas
09.07.2015 - E - Madrid, Sala Caracol
10.07.2015 - E - La Roda (Sevilla), Acordes De Metal Festival
11.07.2015 - E - San Fulgencio (Alicante), Rock Arena
12.07.2015 - E - Barcelona, Sala Bóveda
14.07.2015 - H - Pecs, Rock Maraton
15.07.2015 - A - Wien, Chelsea
16.07.2015 - D - Balingen, Bang Your Head
17.07.2015 - D - Wiesbaden, Schlachthof
18.07.2015 - NL - Eindhoven, Dynamo Metalfest
20.07.2015 - CH - Pratteln, Z7
21.07.2015 - I - Brescia, Circolo Colony
22.07.2015 - SLO - Tolmin, Metaldays
23.07.2015 - D - München, Free & Easy Festival @ Backstage
24.07.2015 - D - Berlin, K17
25.07.2015 - D - Brande-Hörnerkirchen, Headbanger's Open Air
26.07.2015 - DK - Kopenhagen, KB18
27.07.2015 - N - Oslo, Revolver
28.07.2015 - S - Göteborg, Sticky Fingers
29.07.2015 - S - Stockholm, Debaser Medis
31.07.2015 - D - Wacken, Wacken Open Air
01.08.2015 - NL - Scheveningen, Schollenpop Festival
02.08.2015 - F - Éragny, Covent Garden Studios
04.08.2015 - UK - Wolverhampton, Slade Rooms
05.08.2015 - UK - Bristol, Marble Factory
06.08.2015 - UK - London, Electric Ballroom
07.08.2015 - UK - Brighton, Concorde 2
08.08.2015 - B - Kortrijk, Alcatraz Metal Festival
09.08.2015 - F - Saint Maurice De Gourdans, Sylak Festival
11.08.2015 - D - Essen, Turock
12.08.2015 - D - Dinkelsbühl, Summer Breeze