Der 14. August 2015 markiert für den größten Exportschlager Wales einen wichtigen Tag, denn dann endlich veröffentlichen die vier Metaller BULLET FOR MY VALENTINE ihren fünften Langspieler "Venom".
Sehr giftig geht es auch in ihrem soeben veröffentlichten Video zu "You Want a Battle? (Here's A War)" zu: http://facebook.us3.list-manage1.com/track/click?u=2af318de5b645f1584cc86ffe&id=2ba1a19765&e=2103db50d7

Der aufmerksame Videosuchter hat nun schon richtig feststellen können – "Ey, der Bassist sieht ja gar nicht aus wie früher." Und wir sagen "korrekt", hier sehen wir Jamie Mathias' ersten Musikvideo-Auftritt bei BULLET FOR MY VALENTINE. Mathias wurde bekannt als Sänger und Gitarrist der walischen Modern Metaller "Revoker" und ersetzt bei BFMV Jason James dauerhaft am Bass.
Die Tracklist von "VENOM" liest sich übrigens folgendermaßen: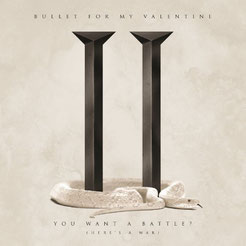 01. "V"
02. "No Way Out"
03. "Army of Noise"4. "Worthless"
05. "You Want A Battle? (Here's A War)"
06. "Broken"
07. "Venom"8. "Harder the Heart"
09. "Skin"
10. "Hell or High Water"
11. "Pariah"
Zusätzlich auf der Deluxe Edition:
12. "Playing God"
13. "Run For Your Life"
14. "In Loving Memory"
15. "Raising Hell"
https://www.facebook.com/BulletForMyValentine

---
BULLET FOR MY VALENTINE - neuer Song, neues Album
BULLET FOR MY VALENTINE veröffentlichen im August ihr neues Album "Venom".
Zwei Jahre nach "Temper Temper", das in Deutschland Platz fünf der Charts erreichte, erscheint mit "Venom" das mittelweile fünfte Album der Waliser. Der erste Song des Longplayers, "No Way Out" ist ab sofort als Download und Stream erhältlich.
"Venom" wurde in der der Besetzung Matt Tuck (Gesang), Michael "Padge" Paget (Gitarre), Michael "Moose" Thomas (Drums) im Londoner Metropolis Studio eingespielt (Bassist Jason James hatte die Band im Januar 2015 verlassen) und von Carl Bownuand Colin Richardson (Slipknot, Machine Head, Trivium) produziert. Als neuen Bassisten verpflichtete die Band den ebenfalls aus Wales stammenden Jamie Mathias.
"Es ist nicht so einfach, ein ganzes Album zusammen zu fassen, nachdem man so lange Zeit Songs dafür geschrieben und aufgenommen hat, nachdem man so viel Herzblut hineingesteckt hat", sagt Frontmann Matt Tuck. "Sich wieder in einige der finstersten Situationen aus der Vergangenheit hinein zu versetzen, um diese Text schreiben zu können, fällt nicht immer leicht. Aber als ich wusste, in welche Richtung die ganze Sache gehen sollte, hatte ich kein Problem mehr damit, bestimmte Dinge einfach raus zu lassen – und dann brach die Hölle los. Es ist ganz bestimmt die aggressivste Platte, die wir bislang gemacht haben und die Texte werden bei den Leuten sicherlich einen Nerv treffen. Ich kann nicht in Worte fassen, wie stolz ich darauf bin und ich kann es nicht erwarten, dass alle Welt da draußen es auch zu hören bekommt. Wir haben uns selbst neu erfunden und sind bereit, es ein weiteres Mal mit der ganzen Welt aufzunehmen."
Im Verlauf ihrer Karriere verkauften BULLET FOR MY VALENTINE Millionen von Tonträgern, die Band hat unzählige Fans auf der ganzen Welt, ihre Songs verzeichnen hunderte von Millionen Video- bzw. Track-Streams, sie waren auf den Covern von Dutzenden Musikmagazinen und ihre Alben wurden von der Kritik gefeiert. Mit ihrem kommenden, game-changing Album "Venom" schickt sich die Band nun an, althergebrachte Genregrenzen zu überwinden und neue Trends zu setzen. Bestes Beispiel: die erste Single "No Way Out". "Um einen solchen Track zu schreiben, musste ich wirklich in eine extreme dunkle Phase meines Lebens zurückgehen, in die ich mich schon lange nicht mehr hinein versetzt habe, weil mein Leben heute so ganz anders ist als in der Zeit, bevor die Band durchstartete", erklärt Tuck. "Es ist einer der, wenn nicht sogar DER musikalisch und textlich härteste Track, den wir jemals aufgenommen haben. Er begleitet mich nun schon eine Weile, aber jedes Mal, wenn ich ihn höre, bekomme ich eine Gänsehaut. Hold on tight it's a hell of a ride!"
Im Juli bricht die Band nach Südamerika auf, wo sie mit Motionless In White unterwegs sind, bevor sie im Sommer Slipknot und Lamb of God auf der wohl lautesten Tour des Sommers durch Nordamerika begleiten.
"Venom" - das Tracklisting:
01. "V"
02. "No Way Out"
03. "Army of Noise"
04. "Worthless"
05. "You Want A Battle? (Here's A War)"
06. "Broken"
07. "Venom"
08. "Harder the Heart"
09. "Skin"
10. "Hell or High Wate
11. "Pariah"
Zusätzlich auf der Deluxe Edition:
12. "Playing God"
13. "Run For Your Life"
14. "In Loving Memory"
15. "Raising Hell"
https://www.facebook.com/BulletForMyValentine