EAT THE GUN legen nach: im August 2015 wird die Band ihr fünftes Studioalbum veröffentlichen und dabei wieder mit Steamhammer SPV zusammenarbeiten. Die musikalische Neuausrichtung hat bereits dem 2013er Album Stripped To The Bone überragende Presse beschert und wird nun konsequent fortgesetzt. Über drei Monate hat die Band im Studio verbracht und fieberhaft an der Fertigstellung des mit Spannung erwarteten neuen Albums gearbeitet. Band und Label konnten mit Stephan 'Gudze' Hinz (H-Blockx) erneut ihren Wunsch-Produzent für das Projekt gewinnen und an die erfolgreiche Zusammenarbeit aus 2013 anknüpfen. Das Ziel ist klar: Eat The Gun wollen mit Howlinwood zeitlose Rockmusik abliefern, die das Potential hat jeden Musikfan zu begeistern. Egal ob im Radio, auf der Bühne, der heimischen Anlage oder dem Handy. Gute Musik hat keinen Ort, Howlinwood ist überall.
"Stripped To The Bone war ein Befreiungsschlag für uns als Band und hat die Art und Weise wie wir Songs schreiben, aufnehmen und gemeinsam Musik machen grundlegend verändert. Es war das erste Eat The Gun Album, das wir so aufnehmen konnten, wie wir es uns immer vorgestellt hatten. Dadurch haben wir erkannt welche Musik und wie wir eigentlich Musik machen möchten, was großen Einfluss auf unser neues Album hatte. Wir haben einfach etwas genommen dass sich richtig anfühlt und versucht es besser zu machen", gibt Hendrik zu Protokoll.

In den kommenden Wochen werden Titel des Albums, Artwork und erstes Hörmaterial veröffentlicht, gefolgt von Single und Video noch vor der Album-Release Ende August. Zudem können bereits jetzt die ersten Tourtermine für 2015 bestätigt werden.
Eat The Gun existieren seit 2002, haben die Studioalben Cross Your Fingers (2006), Super Pursuit Mode Aggressive Thrash Distortion (2009), Runner (2011) und Stripped To The Bone (2013) veröffentlicht und waren 2009-2014 Dauergast in den deutschen Rock/Alternative Radio- und DJ-Charts; in 2011 sogar unter den Top 20 der amerikanischen College Radio Charts. Die Band hat bis dato weit mehr als 600 Konzerte gespielt, begeisterte dabei unter anderem beim Open Flair, Summer Breeze, Bochum Total, Taubertal Festival, Big Day Out und in Wacken und teilte sich die Bühne mit Größen wie die Toten Hosen, HIM, Danko Jones, Duff McKagan, Donots, Mustasch, Backyard Babies oder Hardcore Superstar.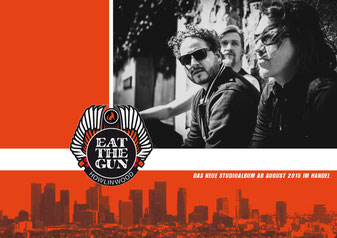 Festivals 2015
11.07.2015 - D - Bonn, Rockaue Festival
31.07.2015 - D - Anröchte, Big Day Out Festival
15.08.2015 - D - Brunsbüttel , Dith Rockt Festival
"Howlinwood" - Tour 2015
28.08.2015 - D - Münster , Sputnikhalle (Howlinwood Release Show)
24.09.2015 - D - Essen, Turock
25.09.2015 - D - Frankfurt, Nachtleben
01.10.2015 - D - München, Backstage
02.10.2015 - D - Geislingen, Seemühle
04.10.2015 - D - Berlin, Comet
15.10.2015 - D - Köln, Underground
16.10.2015 - D - Osnabrück, Westwerk
17.10.2015 - D - Hamburg, Molotow
18.10.2015 - D - Hannover, Lux
30.10.2015 - D - Oldenburg, Cadillac
https://de-de.facebook.com/eatthegun.official