IN THIS MOMENT hatten - oberflächlich - beinahe einen märchenhaften Aufstieg zum Ruhm. Auch wenn die Jahre voll harter Arbeit, Rückschläge, Herzschmerz und Blut für den Betrachter nicht unmittelbar erkennbar sind, sind die Fans der "Blood Legion" nicht einfach typischen Fans. Sie verstehen diesen Ethos strenger Arbeitsmoral und der Familie über allem anderen, denn sie SIND die Familie der Band.

Maria Brink sagt dazu folgendes: "Rise of the Blood Legion - Greatest Hits (Chapter 1) is a tribute dedicated to everyone who has risen with us through the blood, the sweat, the thick and the thin. We are honored to have such a beautiful connection with our Blood Legion family. It's amazing that Century Media Records is releasing this compilation so everyone can hear our personal favorites over the last ten years. We love you all and the journey has just begun, Stay the course with us "We are immortal, We rise from the wraith, We are eternal, You are my blood legion, my faith. This is for you!"

Chris Howorth fügt hinzu: "This compilation is for the "Blood Legion", our die-hard fans. We wouldn't be doing any of this without our fans, this album is for them. The songs were hand-picked by Maria and myself and we feel they show the growth of our band over the last 10 years, I hope everyone enjoys this. Thanks again for joining us on this incredible journey!"

Diese Greatest Hits Collection der größten Kulthits der Band, ist ein Liebesbrief von IN THIS MOMENT an ihre Fans, und Century Medias Dankeschön an die Band sowohl als auch an die Fans für dieses unglaubliche Kapitel in deren Geschichte.

Die 18-Track-Collection wird am 04. Mai in Europa als CD und digitalem Download zum mid-price angeboten und beinhaltet die folgenden Songs: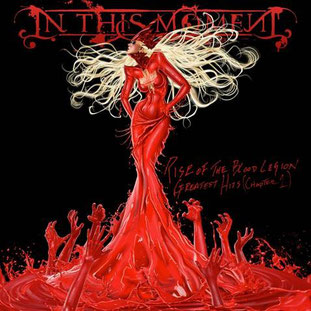 01. Whispers of October*
02. Beautiful Tragedy*
03. Prayers*
04. Daddy's Falling Angel*
05. The Rabbit Hole**
06. Forever**
07. Into the Light (live version)*****
08. The Gun Show***
09. The Promise***
10. World in Flames***
11. Rise with Me****
12. Blood****
13. Scarlet****
14. Adrenalize****
15. It is Written****
16. Burn****
17. Whore****
18. The Blood Legion****
* Taken from the album, "Beautiful Tragedy"
** Taken from the album, "The Dream"
*** Taken from the album, "A Star-Crossed Wasteland"
**** Taken from the album, "Blood"
***** Taken from the live album, "Blood at the Orpheum"

Vorbestellten könnt ihr "Rise Of The Blood Legion - Greatest Hits (Chapter 1)" hier: https://www.cmdistro.de/Artist/In_This_Moment/1278?Page=1&PageSize=25&Sort=13

IN THIS MOMENT online:
www.inthismomentofficial.com