Als die überdrehten Theater-Metaller GWAR Ende der 1980er zum ersten Mal auf den Plan traten, hielten viele Kritiker und Nörgler die Band für einen Scherz mit kurzer Halbwertszeit, doch mit den Jahren wuchs die Gefolgschaft der Band nur weiter, je mehr Alben und bluttriefende Tourneen die Band folgen ließ!

Obwohl GWAR mit der Zeit eine musikalische Wandlung vollzogen haben, nämlich von Punk zu Metal und schließlich Thrash, ist "America Must Be Destroyed" ihr definitiv härtestes Album - derbste Vocals, derbste Musik. Für diejenigen, die den Vorgänger "Scumdogs of the Universe" schätzten oder einfach für jeden, der eine Scheibe von GWAR kaufen will: Hier ist sie nun feur euch mit allen Hits wie "Ham on the Bone", "Crack in the Egg" oder "Gor-Gor"!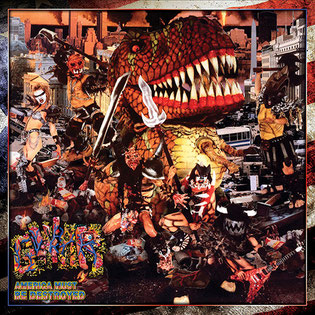 Das ursprüngliche Vinyl ist vergriffen und gesucht, die neue Auflage kommt jetzt endlich zu einem vernünftigen Preis. Es handelt sich um eine einmalige Pressung für den Record Story Day 2015, limitiert auf 300 Einheiten in Schwarz und 200 in Orange.
Trackliste:
01. Ham on the Bone
02. Crack in the Egg
03. Gor-Gor
04. Have You Seen Me?
05. The Morality Squad
06. America Must Be Destroyed
07. Gilded Lily
08. Poor Old Tom
09. Rock n Roll Never Felt So Good
10. Blimey
11. The Road Behind
12. Pussy Planet

http://www.facebook.com/gwar
http://www.gwar.net