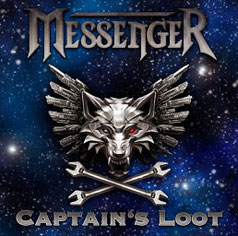 VÖ: 27.03.2015
Label: Massacre Records
Format: CD
Tracklist:
01. Sign Of The Evil Master
02. Tod Dem DJ
03. Asylum XTC
04. Kill The King
05. Port Royal
06. Black Bone Song
07. Dr. Stein
08. Don't Talk To Strangers
Für Freunde der Band haben die Jungs von MESSENGER nun was ganz Besonderes vorbereitet. Nachdem die Band bereits mit drei guten bis starken Alben begeistern konnte und in letzter Zeit mit ihren actiongeladenen Live-Auftritten (Unter anderem als Support für RUNNING WILD, PRIMAL FEAR und POWERWOLF) für ordentlich Stimmung gesorgt hat, veröffentlichen die deutschen Power Metaller mit ihrem neuen Album "Captain's Loot" eine Sammlung an seltenen Songs und Coverversionen von DIO, HELLOWEEN und anderen namhaften Musikern.

Normalerweise erwartet man nicht viel von solchen Veröffentlichungen, da man meist in der Vergangenheit einen lauwarmen Aufguss an lieblos zusammengestellten Aufnahmen serviert bekommen hat. Dies trifft auf "Captain's Loot" zum Glück nicht zu. Hier haben MESSENGER ganz tief in ihre musikalische Schatztruhe gegriffen und schon nach dem Opener "Sign Of The Evil Master" stellt man fest hier hält man was Besonderes in den Händen.

Ausnahmslos alle Stücke der Formation wissen zu begeistern. Seien es die starken Refrains ("Sign Of The Evil Master", "Asylum XTC") oder die ungestüme Kraft bei Songs wie "Kill The King" und "Port Royal". Besonders witzig wird es, wenn MESSENGER auf dem zweiten Song "Tod Dem DJ" Phrasen wie "Tod! Tod! Tod dem DJ! Heavy Metal ist Gesetz! Das Gesetz! Das verdammte Gesetz!" anstimmen. Eine Band, welche so satirischen Neigungen besitzt muß man einfach nur mögen.

Alles in allem also ein Album was sich lohnt zu hören, am Besten mit guten Kumpels und ner schönen Kiste Bier zum Abfeiern.

(Jan Heesch)

LINE-UP
Francis Blake - Vocals
Chainmaster - Lead Guitar
Pyro Jack - Rhythm Guitar
Dr. H.R. Strauss - Bass Guitar
Merlin - Drums

DISCOGRAPHY
2006 - Under The Sign
2011 - See You In Hell
2013 - Starwolf Pt. I
2015 - Captain's Loot