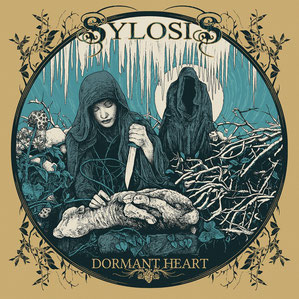 VÖ: 23.01.2015
Label: Nuclear Blast
Format: CD
Tracklist:
01. Where The Wolves Come To Die 2:55
02. Victims amd Pawns 5:00
03. Dormant Heart 5:14
04. To Build A Tomb 4:21
05. Overthrown 4:08
06. Leech 5:01
07. Servitude 4:02
08. Indoctrinated 4:40
09. Harm 4:55
10. Mercy 4:51
11. Callous Souls 5:01
12. Quiescent 9:02

Tja, in welche Kategorie Metal kann man Sylosis wohl passend einordnen? So richtig will mir da nichts einfallen.
Der aktuelle Langspieler "Dormant Heart" beginnt mit harten Gitarrensounds und tiefen Growls. "Where The Wolves Come To Die" ist ein guter Einstieg in die CD. "Victims And Pawns" setzt an Geschwindigkeit nochmal eine ordentliche Schippe drauf. Dahingehend wirkt der folgende Titeltrack schon beinahe ermüdend langsam. Dies aber auch nur zu Beginn. Abgehackte Gitarren und galoppierende Drums setzen ein und sofort kehrt der Sound der ersten Tracks wieder zurück. Bei "Quiecent" erkennt man die Band kaum wieder. Leise und seichte Clearvocals, Konzertgitarre... eine Verschnaufpause für den Gehörgang. Auch wenn hier später wieder das Growling einsetzt, bleibt der Song insgesamt eher ruhig.
Diese abwechslungsreiche Art zieht sich durch das komplette Album. Gesellschaftskritische Lyrics, die der Menschheit einen Spiegel vor das Gesicht halten passen thematisch auch sehr gut rein. Die Message: "Wenn dich etwas an der Politik/Umwelt/etc. stört, erheb deinen Arsch und tu etwas!"
(Sarah Jacob)
Dazu sagt auch Sänger Josh Middelton: "Der Titel bezieht sich auf Menschen, die wie von einem Autopilot gesteuert durchs Leben gehen und Teil einer Herde sind. Es geht darum, dass die Leute das einfach als Teil einer 'Tradition' akzeptieren, statt sich in der Welt umzusehen und für sich selbst zu denken. Manchmal gibt es Situationen, die unsere Perspektive oder Wahrnehmung verändern…"
Lineup: 
Josh Middleton - vocals, guitars 
Alex Bailey - guitars 
Carl Parnell - bass 
Ali Richardson - drums

Diskografie:
2006: Casting the Shadows (EP)
2007: The Supreme Oppressor (EP)
2008: Conclusion of an Age
2011: Edge of the Earth
2012: Monolith
2015: Dormant Heart