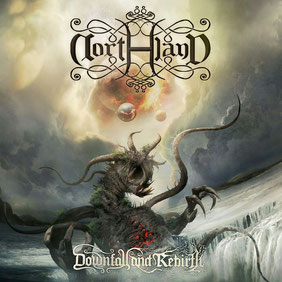 VÖ: 01.01.2015
Label: Autoeditado
Format: CD
Tracklist:
01. When Nature Awakes
02. Bloodred Sunrise
03. Together We Die
04. The Rite
05. Fury's Unleashed
06. Duskriders
07. Spirit in Darkness
08. Whispers in the Wind
09. Downfall and Rebirth
10. Moonlight Spell
11. Newborn Star
Folk Metal wie man ihn kennt. Northland eröffnen hier kein neues Genre, aber die Spanier sollten definitiv nicht überhört werden. Nach der Gründung im Jahre 2007 und der Veröffentlichung ihres Demos "Freezing Sadness" (2008) spielte die Bands einige Konzerte im Heimatland um sich in der Szene bekannt zu machen. Nach der Veröffentlichung ihres ersten Full-length-Albums "Northland" im Jahr 2010 wurden sie auch über dis Grenzen hinweg bekannter und sorgten dafür, dass es auch so bleibt. 
Mit dem neuen Album "Downfall And Rebirth" erscheint das nun dritte Werk. Die Geschichte hinter dem Album ist das Entstehen und der Niedergang von Imperien, Zivilisationen und letztlich der gesamten Menschheit und der Rache von Mutter Natur an denen, die ihr über Jahrzehnte und Jahrhunderte Leidbund Schmerz zugefügt haben.
Nun verstehen sich Northland aber keinesfalks sls Weltverbesserer, dennoch zeigen sie mit dieser Thematik, dass einem die Umwelt und der Planet auf dem wir alle leben, nicht egal sein sollte.
Das ganze verpackt in gute Gitarrenarbeit mit raffinierten Riffs, guten Drumspiel und den gängigen Folk-Einflüssen (Violine, Maultrommel) die es eben üblicherweise so gibt. Dazu screamt Vocalist Pau Morillo, der auch die erste Geige, pardon, Gitarre und die Maultrommel spielt.
"Downfall And Rebirth" bietet Abwechslung und erschließt sich in einem Kreis, wenn man am Ende des Albums wieder von vorne beginnt.
(Sarah Jacob)
Lineup:

Pau Murillo - Vocals, Guitars & Jaw Harp
Alex Fernández - Guitars
Vic A. Granell - Bass & backing vocals
Pau Vázquez - Violin
Pol Lemaire - Keyboard & backing vocals
Jose Rosendo - Drums
Diskografie:
2008: Freezing Sadness
2008: Revenge
2010: Northland
2015: Downfall and Rebirth