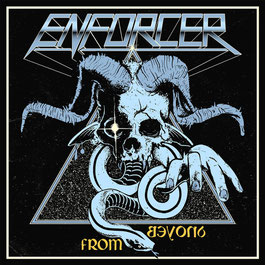 VÖ: 27.02.2015
Label: Nuclear Blast
Format: CD
Tracklist:
01. Destroyer
02. Undying Evil
03. From Beyond
04. One With Fire
05. Below The Slumber
06. Hungry They Will Come
07. The Banshee
08. Farwell
09. Hell Will Follow
10. Mask Of Red Death
Nach der Gründung 2008 in Arvika (Schweden) und bereits drei Releases, könnte man meinen, das nächste Werk der jungen Schweden von Enforcer beinhaltet Struktur und ein gewisses erwachsenes Auftreten. Dagegen wirkt "From Beyond" etwas durcheinander und unstrukturiert. Es gibt keinen roten Faden und das Album ist definitiv kein Konzeptalbum.
Das alles soll aber keinesfalls heißen, das der neue Silberling schlecht wäre - ganz im Gegenteil! Die Band beherrscht ihre Instrumente und Sänger Olof weiß auch mit seiner Stimme zu überzeugen. Die ersten beiden Stücke "Destroyer" und "Undying Evil" klingen noch recht rauh und wild, der Titeltrack "From Beyond" dagegen zeigt deutlich die Reife und Erfahrung, die die Band in den letzten Jahren sammeln konnte, wenn gleich er lyrisch nicht der anspruchsvollste des Albums ist. "One With Fire" lässt dann wieder eher die wilde Seite durch kommen.
"Below The Slumber" schlägt erst langsame Töne an, nimmt aber schnell wieder an Geschwindigkeit auf. Diese Parts wechseln sich im Song immer wieder ab.
"Hungry They Will Come" ist ein Instrumental, welches natürlich zeigt, wie raffiniert das Gitarrenspiel ist und natürlich auch, was Drummer Jonas Wikstand drauf hat, aber ich persönlich finde solche Stücke überflüssig. Live noch mehr als auf CDs, aber gut. Ehre, wem Ehre gebührt. Sie sind stolz auf ihr Können und sollen das natürlich auch beweisen dürfen. "The Banshee", beginnend mit einem langen Gitarrensoli; dann ertönt aber auch hier wieder die junge, wilde Musik. "Farewell" gefällt mir fast am besten. Der Song ist in sich stimmig, es gibt keine merkwürdigen Wendungen in Musik oder Gesang und zeigt am ehesten Struktur. Trotzdem ist auch hier Abwechslung geboten. "Hell Will Follow" prügelt sich dann nochmal ordentlich durch die Boxen und das Schlusslicht "Mask Of Red Death" lässt das Album gebührend auslaufen. Auch hier gibt es wieder viele und lange Instrumentalparts.
Insgesamt ist das Album so, wie man die Band auch live kennt. Fetzig, schnell, ein Wirbelwind. Ein Spaßgarant für alle Fans der Band und des Speed Metal.
Die Gebrüder Wikstrand sind vollkommen selbst verantwortlich für das Recording, Mixing, Mastering, sowie die Produktion von "From Beyond". Das Artwork stammt von Squid Hrüshka.
(Sarah Jacob)

"Mit der Musik auf »From Beyond« möchten wir den Weg fortsetzten, den wir auf »Death By Fire« erstmals beschritten haben. Wir wollen unseren eigenen Sound bis auf die Spitze treiben und eingängige, kompromisslose Metal Songs schreiben. Anders als viele andere junge Bands, haben wir uns nicht einem bestimmten Musikstil verschrieben und sind daher auch nicht eingeschränkt. Wir machen das, worauf wir Lust haben und sind beim Komponieren völlig frei," so ENFORCER Sänger & Gitarrist Olof Wikstrand. "Am Anfang unserer Karriere haben wir Lyrics über Teeny Fantasien geschrieben, in denen wir ein wildes Leben führen und mit Mädchen rummachen. Aber nach ein paar Jahren, in denen viele dieser Fantasien Realität wurden, haben wir erkannt, wie irdisch sie sind," erklärt Olof.
Line up:
Olof Wikstrand - vocals, guitar
Joseph Tholl - guitar
Tobias Lindqvist - bass
Jonas Wikstrand - drums
Diskografie:
2008: Into the Night (Heavy Artillery)
2010: Diamonds (Earache Records (Europa) / Heavy Artillery (Nordamerika))
2013: Death by Fire (Nuclear Blast)
2015: From Beyond (Nuclear Blast)