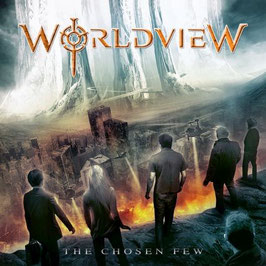 VÖ: 22.05.2015
Label: M24 Music Group
Tracklist:
01. Mortality
02. Illusions of Love
03. Back in Time
04. The Mirror
05. Why?
06. Prisoner of Pain
07. Two Wonders
08. Walk Through Fire
09. The Chosen Few
10. The Last Cry
Da ja heut zu Tage irgendwie alles episch ist, warum dann nicht auch das Debütalbum von Worldview?
George Rene Ochoa (Deliverance, Recon, Vengeance Rising) und Rey Parra (Sacred Warrior) gründeten die Band in Los Angeles kurz nach dem Tod ihres Freundes Rick Macias (Sacred Warrior), der sie immer wieder animierte, trotz der Entfernung ein Projekt zusammen auf die Beine zu stellen. Zu dessen Ehren entstand nun Worldview. Die restlichen Musiker waren schnell gefunden und so war die Band komplett und nahm ein paar Songs auf. Diese wurden von der Internetgemeinde hoch gelobt. Kurz nach bekanntbgabe der Albumveröffentlichung, kürte man dieses zum "Most anticipated release of 2014"; nach diversen Verschiebungen soll "The Chosen Few" nun aber endlich der Masse zugänglich gemacht werden. Das Album verspricht viel Energie und melodischen Power Metal für die Fangemeinde.
Die Band hat für "The Chosen Few" auf ein Intro verzichtet und legt lieber gleich richtig los!
"Morality" besticht durch abwechslungsreiche Rhythmen. Die Stimme von Rey Parra fügt sich gut in das Gesamtbild ein und auch die orientalischen Einflüsse passen irgendwie ganz gut. Mal etwas anderes, statt immer nur der schnöde Einheitsbrei. So zieht sich dieser rote Faden durch den gesamten Silberling über "The Mirror", "Two Wonders" bis hin zu "The Last Cry". 
Abwechslungsreich, melodisch, orientalisch, metallisch. All das und mehr erwartet uns bei "The Chosen Few".
Mixing und Mastering verwantwortet Bill Metoyer (Slayer, Sacred Reich, Tourniquet, Trouble, Armored Saint, Deliverance). Produziert hat George Rene Ochoa selbst.
Das Artwork stammt aus der Feder von Felipe Machado Franco (Blind Guardian, Rhapsody Of Fire, Jorn)
(Ssrah Jacob)
George zum Album: "It has been a pleasure working with everyone on this project. I feel that all bring their unique flavors to the table. Ronson Webster has been a great asset as a co-writer and an awesome background vocalist. Oz Fox was so gracious to do a lead (and a great flashy one!) in the midst of his busy schedule with Stryper. Les Carlsen came into my studio and nailed the vibe that we needed. He is a great brother and phenomenal vocalist. Jimmy P. Brown and I have remained friends over the years and he is one of the most talented people that I know. What a great background vocal Jimmy recorded! Larry Farkas is one of my really good friends and an awesome guitar player. It was only natural for me to include him. Armand Meinbardis is another busy musician that everyone wants to use. He is way beyond me and it is an honor to have him play on this record. Niki Bente was a referral by another friend Ray Vidal. She came into the studio, and added that female touch the record needed. Finally, Bill Metoyer is one of the nicest people on the planet to work with. His ear is impeccable which makes him an  outstanding mix engineer. He really helped me to sculpt this Worldview record to be all that it could be. I would work with Bill again anytime."
line-up:
Johnny Gonzales - Drums, Percussion
Todd Libby - Bass guitar, Keyboards
George Rene Ochoa - Guitars, Keyboards, Background Vocals
Rey Parra - Lead Vocals
Special guests
Oz Fox [Stryper] – Lead guitar on "Back in Time" (2nd lead)
Les Carlsen [Bloodgood] – Bridge vocals on "The Chosen Few"
Larry Farkas [ex. Vengeance Rising] – Lead guitar on "Prisoner of Pain" (1st lead)
Jimmy P Brown II [Deliverance] - BGV on "The Mirror" (2nd and 3rd chorus)
Ronson Webster - Keyboards, Background Vocals
Armand Melnbardis [Rob Rock] - Piano on "The Chosen Few", Violin on "Back in Time"
Niki Bente - Female vocals on "The Chosen Few"